Wu-Tang Clan's Brand New Song Proves They're Still One of the Best in the Game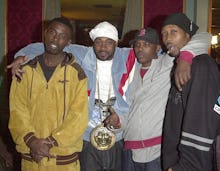 There's a reason the Wu-Tang Clan remains one of the best-known names in hip-hop more than 20 years after its inception. Everything the group releases is a reminder that Raekwon, Ghostface Killah, Inspectah Deck, RZA, GZA, Method Man, U-God, Masta Killa, Cappdonna and the late ODB (RIP) are touchstones for nearly every important hip-hop artist today. 
And the Clan's brand new release, "Necklace," is exactly why.
The song shows the Clan going back to its roots. Grainy sound clips from action movies fill the spots usually reserved for a poppy hook in modern rap. The track's raw verses emphasize clever wordplay and inventive slang over story or substance. And that healthy rivalry between the members as they work to body one another out to secure the standout verse is palpable.
For a time it looked uncertain whether we were going to get a full Wu project this year. When the title track off the 20th anniversary album, A Better Tomorrow, was released, members expressed disdain for RZA's uncharacteristically clean, club-friendly direction. After a series of tense negotiations and ultimatums, they agreed to push forward with the project. "Necklace" proves the group can still conjure that original Wu-Tang essence.
The song is likely to be the last released before A Better Tomorrow drops Dec. 6. Also keep a vigilant eye out for their one-of-a-kind "art object" album Once Upon a Time in Shaolin. It was crafted in secrecy in a studio in Morocco and will only be available for listening in choice museums, galleries and maybe music festivals around the world.