President Obama Is About to Make History by Bringing Millions of People Out of the Shadows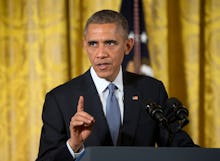 After months of delay and debate, President Obama is set to deliver on his promise of a wide-ranging executive action to protect as many as 5 million immigrants who are in the country without permission from being deported.
The president is expected to lay out plans to expand his "deferred action" policy to include close family members of the select group of mostly young people already protected from deportation. The ultimate goal, the White House says, is to bring millions of immigrants who are in the country illegally out of the shadows and into the system.
Obama will unveil the long-awaited details during a speech from the White House Thursday night at 8 p.m. EST. NBC News was the first to report the timing, which the administration confirmed early Wednesday afternoon. On Friday, Obama will travel to a high school in Las Vegas, where Press Secretary Josh Earnest said he will "discuss why Republicans in Congress must act to pass a long-term solution to immigration reform."
The White House also posted a new video of President Obama teeing up Thursday's speech from the Oval Office.
"Everybody agrees that our immigration system is broken. Unfortunately, Washington has allowed the problem to fester for far too long," he said. "What I'm going to be laying out is the things I can do with my lawful authority as president to make the system work better, even as I continue to work with Congress and encourage them to get a bipartisan, comprehensive bill that can solve the entire problem."
Trouble ahead? Late Wednesday, the White House will open its doors for what could be a contentious meeting with Democratic lawmakers. 
"It's not really a negotiating session," Earnest told reporters, who said the president would only be giving his colleagues a preview of Thursday night's message.
While party leaders, like Sen. Harry Reid, have encouraged the president to "go big" with his immigration orders, there is concern that the White House is ceding a strategic advantage to Republicans by going forward before Congress agrees on a stopgap bill, called a continuing resolution, to keep the government running.
Republican leaders like Sen. Mitch McConnell say there will be no shutdown, but other senior senators, like Alabama's Jeff Sessions, have said they are open to inserting language into the budget that would block any executive action. If that happened, Democrats would block the bill and the federal government would grind to a halt. Again.
Asked Wednesday if Obama was trying to goad the Republicans, who will take control of the Senate in January, into an ugly political battle, Earnest said it was not the administration's goal "to promote a standoff."
But with GOP congressional leaders having already warned that unilateral action would all but wipe out the potential for future negotiations, there will be prominent Republicans agitating for just that. Even if Republicans choose not to force a shutdown over the issue in the near-term, more conservative tea party members would be emboldened in their efforts — as if they needed it — to prevent a potential bipartisan deal.
Game-changer: However this Capitol Hill chess game unfolds, millions of hardworking people are about to take a big step toward realizing their long-delayed American dreams. Obama will not change the law Thursday; despite what some Republicans say, that's still up to Congress. But he will go a long way in advancing the cause.