9 Times Taylor Swift Was Right About Feminism in 2014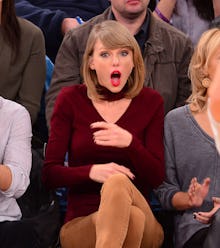 Taylor Swift has had a banner year. 
Once ridiculed for her refusal to identify as a feminist, Swift has overhauled her image, rebuilding her brand as a full-blown female-empowerment icon. How did she do that? Let's examine her path into feminist-hood over the course of 2014.
1. She came out as a proud feminist.
In an interview with the Guardian in late August, Swift explained how she came to terms with feminism — with the help of a few famous friends.
"As a teenager, I didn't understand that saying you're a feminist is just saying that you hope women and men will have equal rights and equal opportunities," she said. "What it seemed to me, the way it was phrased in culture, society, was that you hate men. And now, I think a lot of girls have had a feminist awakening because they understand what the word means. 
"For so long it's been made to seem like something where you'd picket against the opposite sex, whereas it's not about that at all. Becoming friends with Lena (Dunham) – without her preaching to me, but just seeing why she believes what she believes, why she says what she says, why she stands for what she stands for – has made me realize that I've been taking a feminist stance without actually saying so."
2. She took on the media for its depiction of women.
During an appearance on French Canadian television show Tout le monde en parle, Swift told host Guy A. Lepage that she couldn't stand the way media portrays young women as rivals rather than allies.
"I think when it comes to females in the media, you'll see something that kind of upsets me, which is that females are pinned up against each other, more so than men," she said before a studio audience in Montreal. "One thing I do believe as a feminist is that in order for us to have gender equality we have to stop making it a girl fight, and we have to stop being so interested in seeing girls trying to tear each other down. It has to be more about cheering each other on, as women."
3. "Blank Space" was essentially a feminist critique of the media's portrayal of her.
As Jessica Valenti of the Guardian explained, "Taylor Swift has been called a prodigy, a 'feminist's nightmare' and – most annoyingly yet also most often – boy-crazy." The singer's latest rebuttal had fans cheering, however. "The video for 'Blank Space' is a sort of dystopian feminist fairy tale," and a response to her critics, Valenti said. 
4. She went on a shopping spree for feminist books at McNally Jackson in New York City.
Who doesn't love a good feminist shopping spree? The only sad part of this story is that Swift apparently forgot to invite us all to what we can only imagine was the world's most fun feminist slumber party afterwards. 
5. She walked the feminist walk. 
As Kelly Locke of BuzzFeed notes, Swift has almost completely stopped performing songs that notoriously promoted girl-on-girl hate, proving that she's not just interested in talking about the problem with depicting women in competition, she's ready to stop doing it herself.
6. She called out the way we belittle women for having feelings.
"I really resent the 'Be careful, buddy, she's going to write a song about you' angle, because it trivializes what I do," Swift told the Guardian. She also noted the way this constant stream of criticism has affected how her music is portrayed. According to Swift, her "dating life has become a bit of a national pastime" — and she's done with it. "I don't like it when headlines read 'Careful, Bro, She'll Write a Song About You,' because it trivializes my work," she said in an interview with Rolling Stone.
7. She highlighted the sexist nature of criticizing women for being too emotional.
Swift told the Guardian that she resents "the idea that if a woman writes about her feelings, she has too many feelings." She said that she is deemed as having "excessive sentimentality" while for men, it's understood as a positive attribute. 
8. She exposed a huge double standard in the way that we evaluate artists in the music industry. 
On the Australian radio show Jules, Merrick & Sophie, Swift expressed frustration after being asked a question about her desire to discuss relationships in her music.
"You're going to have people who are going to say, 'Oh, you know, like, she just writes songs about her ex-boyfriends,'" she told the hosts. "And I think frankly that's a very sexist angle to take. No one says that about Ed Sheeran. No one says that about Bruno Mars. They're all writing songs about their exes, their current girlfriends, their love life, and no one raises the red flag there."
9. She shut down subtle forms of sexism like the "women are crazy" trope.
Misogyny is done most masterfully when done subtly. When actor and Monty Python cofounder John Cleese was a guest alongside Swift on BBC's The Graham Norton Show, he told the hosts that he preferred cats to dogs because "they're unpredictable and cussed, like women." Swift didn't let her smile slip, but the poised young star calmly warned Cleese he was getting into dangerous, gendered territory. Well played, Tay Tay.