These Beauty Queens' Brutal Murders Expose a Huge Problem No One Is Talking About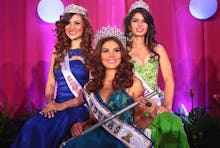 On Wednesday, police found the bodies of Maria José Alvarado and her sister Sofia Trinidad buried on the banks of the Aguagual River in Arada, a town in western Honduras. Alvarado, a beauty queen who was crowned Miss Honduras in April, and her sister disappeared the previous Thursday after leaving a party.
Both women were reportedly victims of Sofia Trinidad's jealous boyfriend. He had allegedly seen her dancing with another man at the party and shot her in the head in retaliation; Alvarado was shot twice in the back as she tried to escape, according to police reports.  
"I forgive you, Sofia, for taking Maria to the party," the girls' mother, Teresa de Jesus Muñoz, reportedly said after the bodies were found.
Her grief has captured the attention of a nation in which violence like this is not uncommon. Honduras is the murder capital of the world — there were 90.4 homicides per 100,000 people there in 2012, according to the United Nations — and violence against women has reached crisis levels as well. According to the Center for Women's Rights, a human-rights group based in in Tegucigalpa, 328 women have been killed in Honduras in 2014 so far.
While the murders are part of an all-too common trend in Latin America, the violence was made all the more striking by the identity of the victims. Alvarado's death in particular captivated the public. She was a 19-year-old beauty queen just days away from competing in the 2014 Miss World Competition in London. Media outlets described her "gleaming smile and wavy chestnut hair," family members remembered her "as a woman who represented the best of Honduras" and pageant officials relayed that they were devastated by the loss of a woman "who [was] so full of life."
But her death was not an anomaly. Among beauty queens, particularly in Latin and Central America, deadly violence is reaching epidemic levels. 
Take the case of Génesis Carmona. In Venezuela, Carmona, a model who won the title of Miss Tourism for the state of Carabobo, was shot in the head during government protests in February. "How long are we going to live like this? How long do we have to tolerate this pressure, with them killing us?" asked one of Carmona's relatives at the time. 
Just a month prior, Monica Spear, an actress who was crowned Miss Venezuela in 2004, was shot and killed while on vacation with her husband and 5-year-old daughter.
The violence prompted more than a hundred of the country's most prominent beauty queens to release a video condemning the government for allowing the bloodshed to continue.
"Venezuela, that today mourns the recent and violent loss of two of our beauty queens: Monica Spear and Genesis [Carmona] ... Our country is at the top of a shameful list: one of the most violent countries in the world. Therefore, we feel the need to cry out as a group and ask the entire globe to pray for Venezuela's PEACE!" read a statement by the group.
The violence is often tied to organized crime. Maria Susana Flores Gamez, who was crowned 2012's Woman of Sinaloa, was killed during a shootout between soldiers and suspected drug traffickers in November 2012. She allegedly exited the car first holding a gun and "went down in a hail of gun fire," the Associated Press reported. "They used the woman as a human shield," an anonymous official said at the time.
According to AP, Gamez's death was at least the fourth documented time a beauty queen had become entwined with Mexican drug cartels in recent years. The pattern is so common that it became the inspiration behind the 2011 film Miss Bala, in which a young woman who enters a beauty pageant is forced into doing the work of a drug trafficking ring. 
Even if beauty queens aren't directly involved with violence or crime, they're often at risk by virtue of romantic relationships with men who are. Joaquin "El Chapo" Guzmán Loera, former leader of Mexico's Sinaloa cartel — considered by some to be the most powerful drug and organized crime syndicate in the world — married Emma Coronel, a local beauty queen and the daughter of one of his lieutenants, when she was just 18.
It was Guzman's fourth marriage, and Coronel was added to the long list of women affiliated with Guzman targeted by law enforcement or rival gangs: Ex-wife María Alejandrina Salazar Hernández has been accused of being a key operative in the Sinaloa cartel; ex-wife Griselda López Pérez has been sanctioned by the U.S. under the Kingpin Act and had her assets frozen; Zulema Hernandez, a woman who met Guzman while serving time in a maximum-security prison on armed-robbery charges, became his mistress.
"After the first time, he sent to my cell a bouquet of flowers and a bottle of whiskey," she told Mexican author Julio Scherer García. "I was his queen." She reportedly became pregnant with his child while in prison, but miscarried after a retaliatory beating by prison guards. After being released, she became Sinaloa's agent in Mexico City, and was arrested for trafficking nearly two tons of cocaine until a team of Sinaloa lawyers came to her aid.
In December 2008, her body was found in the trunk of a car outside Mexico City. The letter "Z," a calling card of rival syndicate Los Zetas, was carved into her breasts, buttocks and stomach. She had been shot in the head.
The tradition goes back decades. As the the Daily Beast's Michael Daly noted, the nephew of mafia boss Sam Giancana wed Kenya Kemmermand Bastidas, Miss Sinaloa of 1958; in 1960 she was found murdered in her home.
"A lot of young women are attracted by the false riches of the drug gangs. They offer the fantasy of a life of riches without much work," Judith del Rincon, a women's rights activist and former Sinaloa legislator, told the Associated Press. "A lot of beauty queens wind up as girlfriends of some narco."
Johanna Mendelson Forman summed up the connection in a 2013 dispatch for the Huffington Post:
"What distinguishes these women from other victims of violence is that they are often cut down not by their partners but by other competing gangs, or by the police.
None of these explanations offer up much in the way of comfort for the families and friends of slain beauty queens. They're left behind to grapple with the disappearances of young women whose promising lives are increasingly caught up with violence. For many of these women, pageantry is a ticket to mobility — a way out of poverty and into another life.
Though Maria José Alvarado's murder doesn't appear to stem from an involvement in organized crime, it represents yet another case in which beauty and brutality collided.
"We are going to miss you; you will live in our hearts forever. You have gone to reunite with our father in heaven. He awaits you and will care for you there," said Corina Alvarado, Maria and Sofia's elder sister, at their burial. "Only God can punish those killers as they deserve."