A French City Is Doing Something Smart With All Its Annoying Billboards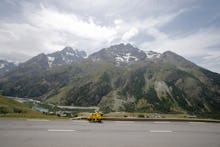 The news: Billboards can be a public eyesore, especially when they cover up historical sites or natural vistas. But one French city is taking a bold step against street advertisements by banning them entirely.
This week, the Alpine city of Grenoble announced it will phase out more than 300 public advertising spaces by next year and plant 50 trees instead, making it the first European city to be completely street-advertisement free.
"The municipality is taking the choice of freeing public space in Grenoble from advertising to develop areas for public expression," Grenoble Mayor Eric Piolle said in a statement.
Grenoble isn't the first city to do this. Back in 2007, the Brazilian city of São Paulo — the fourth largest city in the world — banned all outdoor advertising, pulling the city's 15,000 billboards. The before and after images of the cityscape are pretty remarkable:
Does this make financial sense? While getting rid of a city's billboards might improve its aesthetic, business owners are naturally worried about how the move will impact their livelihood.
According to advertising company JCDecaux, which had a contract with Grenoble, the city stands to lose 600,000 euros per year through lost advertising revenue, and that doesn't take into account the loss of income that might come from businesses not being advertised enough.
But according to Forbes's Scott Goodson, that's not necessarily the case. Take what happened in São Paulo, for instance. "But did this 'ad ban' cause widespread panic and suffering to local firms? Interestingly, it didn't," Goodson wrote. "Instead, it actually encouraged many companies to reassess their advertising campaigns and find new and improved ways to reach customers. It forced them to stop and think, inventing smart new ways to promote their products and services on the streets without covering up the beautiful architecture of the city."
Only time will tell whether Grenoble's gamble will pay off. But in the meantime, the city will look cleaner and greener.