This GOP Congresswoman Just Set a Powerful Example for Her Colleagues on Trans Americans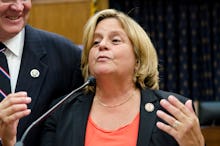 The news: Republicans might not always get the best rep when it comes to LGBT rights, but one congresswoman is raising the bar in a powerful and personal way.
Earlier this week, CBS Miami aired an interview with Rodrigo Lehtinen, son of Rep. Ileana Ros-Lehtinen (R-Fla.), the most senior Republican woman in the House. Lehtinen also happens to be transgender, which means that his mother is the only member of Congress with a trans child.
In his interview, Lehtinen explained that while his political beliefs may not align with his mother's, his family has been very supportive of his coming out and his subsequent transition: "I have full confidence she would have come to these pro-LGBT opinions whether I happen to be transgender or not," he said. "I think she's genuinely a good person, she may be Republican and I may not be, but she cares about people enough and the tide of history is going so much in that direction."
Ros-Lehtinen has perhaps the most LGBT-friendly record among Republican members of Congress: She was the first Republican to co-sponsor a bill repealing the Defense of Marriage Act and founded the 112-member LGBT Equality caucus, where she remains the only Republican member.
"We know Rigo as our child, whether it's Amanda or now as Rodrigo, he's our son, we're proud of him," Ros-Lehtinen said. "As parents we wanted to make sure Rigo understood we were totally fine with it. ... We wanted to make sure he was safe. Our society is sometimes not inviting and not caring enough and there is no mystery that LGBT kids when they are younger are bullied."
"We're very happy that our son is happy with who he is," she said. "And that's a blessing to us."
She's right about the difficulties that trans people still face in America. Despite the many advances that have been made by the LGBT community, transgender people, especially youth, remain at high risk of discrimination and abuse.
According to the Trevor Project, nearly half of young trans people report having thought seriously about suicide, with a quarter attempting it. Advocacy group Transgender Law has also found that over 80% of trans people have been verbally abused, while more than 30% have suffered physical abuse. Around 1 in 5 reported housing discrimination.
And while some progress has been made in protecting federal transgender employees, trans people remain at disproportionate risk of workplace harassment and discrimination. According to a recent study by the National Center for Transgender Equality, around 90% of transgender Americans surveyed experienced "harassment, mistreatment or discrimination on the job or took actions like hiding who they are to avoid it," and it remains completely legal in 32 states for trans people to be fired for being who they are.
Still, progress is being slowly made at the legislative level, which is why it's so heartening to see a member of Congress publicly affirm her love and support for her child, regardless of gender identity. "Love your child because that person is your child whether it's the person you wanted him or her to be or not. That's my advice to parents: Never, never reject your child. That's unconditional love no matter what," Ros-Lehtinen said. Hopefully some of her colleagues take her words to heart.