There Was Another School Shooting Thursday — This Map Shows Every One Since Sandy Hook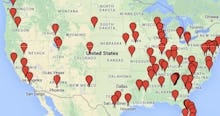 Three students were injured early Thursday after a gunman opened fire at Florida State University's Strozier Library. 
The shooter was killed by Tallahassee police after he reportedly opened fire at officers who were attempting to apprehend him. USA Today reported that the unidentified shooter entered the library around 12:30 a.m., where between 300 and 400 students were up late studying. Tallahassee police Chief Michael DeLeo said the shooting was an "isolated incident and one person acting alone," but little details are known about the gunman or his motives.
"You never think something like this is going to happen to you until you have to react in that situation when someone is screaming there is a gun in the building. I ran for my life," freshman Allison Kope told USA Today. "I ran right out the back door. My laptop and everything is still in there. It was shock. It was just instinct. You don't think about anything else, you just go."
This is sadly just part of an alarming trend: According to Everytown for Gun Safety, a group that aims to end gun violence, at least 91 school shootings have occurred since the December 2012 tragedy at Sandy Hook Elementary School in Newton, Connecticut. The incident at Florida State follows a fatal shooting in October at Marysville-Pilchuck High School in Washington, where four people, including the shooter, were killed.
The map below below, developed using Everytown's data, captures the sheer scale of shootings in the U.S. since Sandy Hook.
Everytown's definition of a "school shooting" is broad -- "Incidents were classified as school shootings when a firearm was discharged inside a school building or on school or campus grounds, as documented in publicly reported news accounts" -- but the numbers of incidents involving guns in schools are still shockingly high.
Despite the relative frequency of school shootings -- and gun violence in general -- the United States and its legislators remain at a stalemate on enacting meaningful laws to address shootings like the ones at FSU across the country, despite the fact that a recent FBI report shows that mass shootings, at schools and otherwise, are on the rise.
Perhaps the Onion put it best with its story following the Isla Vista, California, shooting in May, when seven people were killed: 'No Way To Prevent This,' Says Only Nation Where This Regularly Happens.'