Watch the Hilarious Trailer for 'Pitch Perfect 2'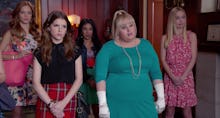 Start your vocal warm-ups! The Barden Bellas are back and ready to take on the world championships of a cappella.
In the new trailer for Pitch Perfect 2, the girls have gotten some bonding time since being crowned the winners at the national a cappella competition -- the usual pillow fights, campfires and singing that damn catchy "Cups" song a million times. But now it's time to get into competition mode: 
All the humor and talent is returning in the cult-favorite sequel, with Fat Amy still totally crushing it with her one-liners and as much instrument-less singing as "Pitch Bitches" can stand. Most of the cast are reprising their roles, including Anna Kendrick as Barden Bellas leader Beca, along with Skylar Astin as love interest and "Treblemaker" Jesse.
We'll be listening to the original soundtrack and memorizing every word from the first movie while waiting until the sequel comes out next summer. Until then...