The Most Badass Singer in America Just Put 'The Voice' in Its Place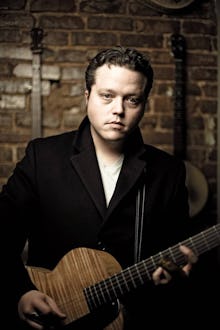 NBC's massively popular singing contest, The Voice, has finally made it abundantly clear it doesn't care about real music.
While hunting for contestants for its next season this week, one of the show's producers stumbled across what he thought was a small-time, but promising, name: Jason Isbell. They invited him to try out for The Voice.
Little did they know that Isbell is already incredibly well-known and respected artist. He's been in the business for close to 15 years. Rolling Stone, NPR and American Songwriter all praised his most recent album Southeastern as one of the best of the 2013. He also happens to have written some of the best-known songs for the Drive-By Truckers, one of the most important modern southern rock bands. 
Isbell took to Twitter to share his bafflement with his 71,100 followers.
It's amazing that The Voice's producers could be so blind as to ignore Isbell's storied career and long list of achievements. He swept this year's Americana Awards, winning the Artist, Album and Song of the Year categories. His album broke into the Top 40 on the first week of its release -- no easy feat for an Americana artist. This year alone, Isbell has played 120 shows, selling out most of them. He currently releases albums through Southeastern Records, run by his manager.
But The Voice doesn't really think that anything but mainstream pop success is any kind of success at all. They have a history of treating their artists pretty poorly.
Competing on The Voice is notoriously dehumanizing and exploitative experience. A copy of a contract leaked last year that revealed the show tells its contestants they must agree to be portrayed in ways that are "disparaging, defamatory, embarrassing (and) may expose [them] to public ridicule, humiliation or condemnation."
They also have to agree to allow producers to portray them in a "false light."
And for all of that, how many previous Voice contestants can you name who have careers now? Yup. Zero.
Good thing one person in this equation still has some integrity. And good thing he doesn't need The Voice to use his own.