One Country Is Extremely Worried About 'The Hunger Games' Sparking a Revolution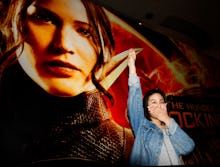 In Thailand, the Hunger Games movies hit a little too close to home, so much so that police took three Thai university students into custody in Bangkok last week for handing out tickets to the latest film in the series, Reuters reports.
Why is Thailand up in arms over a dystopian teen romance? Because demonstrators against the country's military government are following in the footsteps of rebels in The Hunger Games, in light of the military coup that installed Prime Minister Gen. Prayuth Chan-ocha in May.
Thai protesters have borrowed the rebellious three-finger salute that the films' fictional protesters use to challenge to their own oppressive government. In Thailand, the salute has become an "unofficial symbol of resistance against the army's May coup."
One of the three students flashed the resistance signal outside the theater, while another carried a copy of George Orwell's 1984, another tale of dystopian oppression that has also become a popular symbol of resistance in Thailand.
The Thai government emphasized that they did not arrest the students, but rather were "just inviting them to talk," as the police colonel told reporters.
The Thai government has already warned pro-democracy protesters against using the Hunger Games salute and other symbols of resistance. The salute first appeared back in May, when the Thai military seized power and suspended the constitution, transforming the country's democracy into a totalitarian regime. 
Anti-government protests ensued for months, leaving 28 dead and hundreds wounded — but as evidenced by these students, the spirit of resistance burns bright. Just five days before the Hunger Games detentions, five members of a crowd in the northern Thai city of Khon Khaen were detained for making the same salute and wearing T-shirts bearing anti-coup slogans.
While the military might deem the country's democracy as dysfunctional, many Thai citizens clearly disagree — and they're not afraid to speaking out. Standing up against government oppression takes serious bravery. Katniss would approve.