These People Will Be Naked at Macy's Thanksgiving Day Parade for a Very Good Reason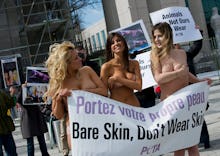 Are you prepared for nudity this Thanksgiving? Because if you watch the Macy's Thanksgiving Day Parade, you'll be seeing it.
Animal rights activists stationed along the New York parade route plan to paint their naked bodies black and white to resemble orcas, in protest of marine park/parade participant/alleged whale torture facility SeaWorld. To make their criticism even more pointed, the activists, affiliated with animal-rights group People for the Ethical Treatment of Animals (PETA), also plan to cram themselves into a bathtub outside the department store's flagship Herald Square location as a metaphor for killer whale captivity.
"It is unacceptable to confine orcas to barren tanks that, to them, are the size of a bathtub," Delcianna Winders, PETA's deputy general counsel, told Reuters. PETA currently has a petition on their website demanding that Macy's cancel SeaWorld's float. In a phone call with Mic, PETA stated that the petition has garnered more than 48,000 signatures.
"There isn't much to say on this, I'm afraid," a representative of SeaWorld told Mic. "Two naked and, presumably, very cold women in a bathtub to protest a parade float. That tells you all you need to know about PETA."
We've seen this before: This isn't the first time activists have protested SeaWorld's presence at the parade. Last year, PETA members held up signs urging television viewers to "Boycott SeaWorld." The nonprofit had also placed an activist wearing an orca costume in a tank barely larger than his body. One protester, a 12-year-old girl, even ran out in front of the float as a form of protest before police brought her back into the audience.
Public criticism of SeaWorld has reached deafening levels following last summer's release of Blackfish, a documentary about the death of a SeaWorld trainer working with Tilikum, one of the park's captive orcas. Blackfish paints SeaWorld as a veritable hell on earth (or water) for orcas. The film chronicles numerous troubling practices by the marine park, including the capture of wild orcas, forcible breeding of orcas with their own offspring and keeping the highly intelligent whales in minuscule enclosures. The filmmakers claim that the psychological trauma endured by killer whales in captivity has contributed to Tilikum's aggression — the whale has killed three trainers since 1991.
Although SeaWorld categorically denied the charges made in Blackfish, the documentary did serious damage to the park's brand and its wallet. The company's stock value dropped an astonishing 33% this summer as 1.2 million people signed a petition supporting a California bill that would ban the use of orcas in shows, as well as the import, export and breeding of orcas. As part of a massive public relations response, SeaWorld has promised to build a massive new killer whale environment and to fund programs protecting wild orcas.
Why it matters: If getting naked on national television will help liberate SeaWorld's beleaguered killer whales, then it's time for us to start stripping. PETA is far from the perfect messenger when it comes to animal cruelty — the nonprofit kills roughly 2,000 shelter animals every year — but SeaWorld's undeniably cruel captivity practices and tone-deaf PR response need to be fixed. Thanks to a few nude animal lovers, people across the world are realizing that now.