Here's Exactly What You Need to Know from Obama's Historic Speech on Immigration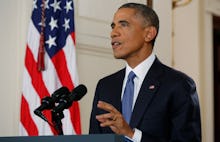 With Congress at an impasse, President Barack Obama has issued a sweeping series of executive actions that will shield up to 5 million people now living in the U.S. illegally from being deported, while also providing many of them access to temporary work permits.
Speaking from the East Room of the White House late Thursday, the president also challenged Republicans, who have been harshly critical of his plan, to step up and offer a better option.
"To those members of Congress who question my authority to make our immigration system work better, or question the wisdom of me acting where Congress has failed, I have one answer: Pass a bill," Obama said. 
The Senate signed off on a bipartisan immigration overhaul in 2013, but the bill has languished in the Republican-controlled House of Representatives for the past 16 months. With the GOP set to take control of both chambers in 2015, the prospect for legislative action has gone from unlikely to next to impossible.
With action now, and the potential of work permits on offer, Obama said he is giving millions who are living in the U.S. without legal permission an opportunity to "come out of the shadows and get right with the law."
What is changing? The executive actions will expand the president's "deferred action" program, which delayed deportation for millions of young people who entered the country with their parents illegally before their 16th birthdays. The new measures will not offer similar protections to their families, a blow to immigration activists who lobbied hard for broader expansions.
The actions also make new avenues to legal status available for the parents of a large group of citizens and legal permanent residents, provided they have been in the country for more than five years. The plan also increases opportunities for highly skilled workers to find jobs and provides new funding for border security efforts, while refocusing resources toward turning back people who do manage to cross illegally.  
What are Republicans saying? They are not pleased and have not been shy about it. Before Thursday's speech, Rep. Lamar Smith (R-Texas) told the Huffington Post that Obama "is actually declaring war on the American people and our democracy."
Soon-to-be Senate Majority Leader Mitch McConnell said "the president will come to regret the chapter history writes if he does move forward." 
"Congress will act," McConnell promised. "Make no mistake, when the newly elected representatives of the people take their seats, they will act."
Republicans have not said what, if any, specific immigration legislation they might consider trying to send to the White House. 
What are immigration activists saying? After more than a year of interrupting speeches and protesting deportations, at least a handful saw fit to celebrate:
Hardened activists offered a more sober assessment.
"I think this is ... imperfect, it doesn't cover everybody, and that's really tragic. But it's going to be historic," Pulitzer Prize-winning journalist Jose Antonio Vargas said in an interview with Bloomberg Politics earlier Thursday. 
Sen. Harry Reid (D-Nev.), the outgoing majority leader, said in a statement that "the President's executive action is a good first step; however it is only a temporary solution ... nothing replaces Congress acting on comprehensive immigration reform. So today, while I thank President Obama for his decisive action, I ask my Republican colleagues to put their partisan politics aside and focus their efforts on passing legislation that will permanently fix our broken immigration system."
What's next? A number of senior Republican senators have openly considered inserting a clause into the forthcoming bill to fund the government that would block any unilateral action. If they did, Democrats would threaten a filibuster and the federal government would shut down again. 
Others have suggested filing a lawsuit against Obama or drawing up articles of impeachment.
None of this is likely to happen. The actions will go forward and deliver on some of the promises Obama made when he took office in 2009. The issue, though, will grow in the eyes of the 2016 presidential contenders. Hillary Clinton weighed in 10 minutes after the speech ended with this tweet:
Republicans: Notice has been served. This historic series of actions has changed the immigration debate and set the country on a path to a more fair and equitable system for millions of hard-working men and women.