One Tweet Perfectly Sums Up Why Immigration Reform Really Matters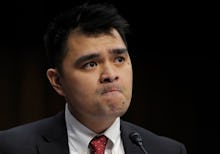 President Barack Obama's announcement of a historic series of executive actions has given new hope and opportunity to almost 5 million immigrants living in the U.S. illegally who face the prospect of deportation.
Among them is Pulitzer Prize-winning journalist and immigration activist Jose Antonio Vargas, who tweeted that the president's plan meant that he could travel to the Philippines and see his mother for the first time in 21 years:
His words are a powerful reminder that immigration policy, at its core, isn't about politics, economics or the rule of law. It's about keeping families together and doing what's right for the millions of people who have grown up and lived in this country for years. They are as American as anyone in everything but name.
In an interview with Bloomberg Politics earlier Thursday, Vargas expanded on his reaction to news of the president's plan. "I think this is ... imperfect, it doesn't cover everybody, and that's really tragic. But it's going to be historic," Vargas said. "Millions of people who call this country home — who contribute to this country, whose families and roots are in this country — are going to be recognized. The American public doesn't really know who we are."
Vargas was a reporter at the Washington Post in 2008 when he won a Pulitzer Prize. In 2011, while at the Huffington Post, he revealed he was an undocumented immigrant in a famous essay for the New York Times Magazine. Since then, he has become one of the most powerful voices in the fight for comprehensive immigration reform, producing a CNN film called "Documented" about his life in the shadows. Vargas is also a co-founder of Define American, an advocacy group for people living in the country illegally.
Vargas famously summed up his struggle with a tearful question to members of the Senate Judiciary Committee in February 2013:
"Immigration is about our future. Immigration is about all of us and before we take your questions, I have a few of my own: What do you want to do with me? For all the undocumented immigrants who are actually sitting here at this hearing, for the people watching online and for the 11 million of us, what do you want to do with us?" 
Congress never did offer him a serious answer to that question. Tonight, President Obama did, and he's giving Vargas a chance to reunite with his mother for the first time in over two decades. This latest immigration action will go a long way to change his life and the lives of millions more.