Listen to Beyoncé's New Singles Off Her Upcoming Deluxe Album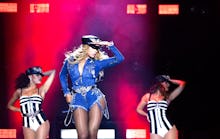 Two full tracks from the upcoming deluxe edition of Beyoncé's self-titled album have been leaked. While we're scared for whatever the Beygency will do to the poor soul who's responsible, the rest of us can party guilt-free to "7/11" and "Ring Off."
Here's "7/11."
And to take a listen to "Ring Off," head on over to SPIN.
Both showcase the Eighth World Wonder that is Beyoncé and everything that we love about her. "7/11" is more of the "I'm in the club and grinding on my surfboard" Beyoncé while "Ring Off" is the "I'm singing about emotions but can still look flawless" Beyoncé.
Earlier this year, Mic reported on the possible leak of the track list to Queen Bey's next surprise album, but these two bangers aren't on that suspicious list. Is it possible Bey and company changed the track names to cover up the list? It's more likely that the track list was just fake (and what goes around, comes back around).
It's been a big year for the mother of Blue Ivy, from riding the wave of amazement after surprise-dropping an entire visual album at the end of 2013 to collaborating with Nicki Minaj for a supreme remix of "Flawless," all the while speaking out for feminism. 
Until Beyoncé drops Beyoncé for real, we'll be listening to these two on repeat. Bey is good. Life is good.
h/t Vulture