This Glamorous 88-Year-Old Duchess Reminds Us that Self-Expression Knows No Age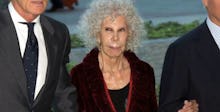 Age is just a number, and getting older doesn't mean losing your style. 
No one reminded us of that more than the Duchess of Alba, the 88-year-old noble with the most badass approach to self-expression. The duchess, who passed away Thursday, was known not only for holding more noble titles than anyone else in the world, she was also famous for her unapologetically bold outfits, which included everything from animals prints to patterned tights to colorful bikinis.
The duchess, aka María del Rosario Cayetana Alfonsa Victoria Eugenia Francisca Fitz-James Stuart y de Silva, never slowed down or faded into the background as she got older (in fact, she remarried in 2011, her new husband 25 years her junior). 
She never stopped experimenting with clothing that made a statement. And in a world that links fashion to youth, ignores older women in fashion magazines and doesn't bother catering to an older clientele in clothing stores, that insistence on style is a big deal.
"I'm not a person who allows herself to get managed," the duchess once told Spanish magazine Hola, according to the New York Times. "I've got my own ideas and try to turn them into reality."
As we've learned from the fashionable women of Advanced Style, expressing one's own ideas through fashion isn't the exclusive purview of the young. These photos of the duchess are just one inspirational reminder.