The Absurdity of How Walmart Treats Employees, in One Viral Thanksgiving Photo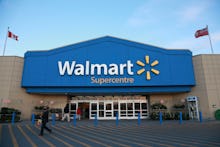 It's well known that Walmart employees don't make much money, but one viral Thanksgiving photo may just capture exactly how poorly the country's largest employer treats its workers.
An Oklahoma City Walmart is allegedly asking employees to donate food to help their coworkers make ends meet during the holiday season. A sign on the collection bin reads, "Let's succeed by donating to associates in need!!!"
The photo comes by way of Making Change, a union-supported group that wants to see Walmart's wages go up. Consumerist tracked the store number and discovered the location was likely a Walmart Supercenter in Oklahoma City.
It's good to see that employees have each other's backs, but this isn't the first time Walmart employees have turned to charity to help stock the shelves during the holiday season. Last November, photos of a donation bin at a Walmart store in Ohio spread via a group called OUR Walmart, which also has union affiliations.
At the time, less than half of Walmart's American employees made more than $25,000 a year, just above the federal poverty level for a family of four. CEO Douglas McMillon said in October that only about 6,000 of the chain's 1.3 million American workers made the minimum wage, and its average full-time pay was actually $12.92.
He conceded that Walmart would prefer to be in a position where it didn't have to pay any workers the minimum wage, instead saying it would like to "invest in its associate base" and explore opportunities for promotions and bonus payments as ways to improve its workers' income. McMillon declined to provide any further details.
When reached for comment about the bins, Walmart directed Mic to a post on the company's blog written by the dairy department manager of store #3430, Dawnne Sulaitis. She explains that the donation bins had nothing to do with low wages:
"... two of my coworkers were on medical leaves of absence and unable to work, leaving their families who normally depend on two incomes down to only one. I think that putting a holiday meal on the table should be the last thing these people have to worry about, so I started a food drive to help them out."
The post further appeared to reference media coverage of the donation bins directly:
 "But what I certainly didn't expect was what happened this week: Learning that there has been quite a bit of unfavorable media out there regarding this drive.
Walmart did not respond to an inquiry from Mic as to what its average full-time and part-time pay rates for retail employees were, or how many of the store's employees fell into either category. It also declined to provide any further details on McMillon's plans to raise the wages of lowest-paid employees.
Last year, a study by the Democratic staff of the House Committee on Education and the Workforce estimated that a typical Walmart Supercenter employing 300 workers in Wisconsin cost the state up to $904,000 in public health care. Another report from the progressive-leaning Americans for Tax Fairness concluded that the cost of public assistance to Walmart workers could run in the billions.
That's a lot of public assistance, and well-intentioned donation bins won't cover the gap.