The Princeton Review Has Some Cringeworthy "Advice" for Minority High School Students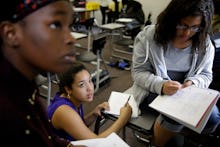 The Princeton Review's books have plenty of tips for aspiring college students. Take part in extracurriculars, get your SAT scores up — and if you're Asian American, then stop being such a math nerd.
That's just one of multiple cringeworthy tips from Cracking College Admissions, a Princeton Review book last updated in 2004 that's still for sale, available in libraries and recommended around the country, reports Bloomberg Businessweek.
In fact there's an entire section called "Ethnic Background" that's supposed to give tips for minorities looking for a leg up. What it does instead is traffic in stereotypes and offer potentially harmful ways to hide or leverage one's identity.
The lowlights: In the section for Asian American applicants, the book notes that students won't stand out from the crowd if they're math whizzes like their fellow Asians. "Work on your verbal SAT score, take some literature and history courses, and get involved in activities other than math club, chess club, and computer club."
The book also tells Asian students to avoid telling schools their race, but that students of other races who have "Asian-sounding surname[s]" should report their race and attach a photograph so schools don't get the wrong idea.
The opposite goes for black applicants, who should report their race and attach a photo to their applications because "selective colleges generally have less stringent requirements for Black applicants." Hispanic students, who get a whole two paragraphs in the eight-page section, are told that "in general, the guidelines for African Americans apply to you."
What it means: The subject of race in college admissions is a controversial one. Harvard and the University of North Carolina are currently being sued over allegations of discrimination against Asian American applicants.
The right way to advise students of different backgrounds, though, is not to stereotype them like Cracking College Admissions does. It's insulting to assume Asian American students are all in "math club," and it's insulting to diminish African American students' credentials by stressing that colleges are less selective for them.
Luckily the book is out of print, even though it's still widely available. Maybe the newfound negative attention will push the Princeton Review to provide a less tone-deaf update.