Bill Cosby Has Finally Responded to the Rape Allegations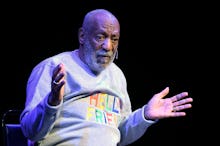 Bill Cosby finally broke his silence on the multiple rape allegations leveled against him, though his response is not exactly enlightening.
"I know people are tired of me not saying anything, but a guy doesn't have to answer to innuendos," he told Florida Today on Friday. "People should fact check. People shouldn't have to go through that and shouldn't answer to innuendos."
A pretty important part of fact-checking, one would think, is asking the accused for his side of the story. But Cosby seems to think its only the alleged victims that deserve scrutiny in the midst of what could be a career-killing turn of events for the comedian.
The background: More than a dozen women have come forward and accused Cosby of sexual assault. The allegations date back years and in many cases have horrifying details, including drugging victims and using his status to threaten them into keeping quiet.
Cosby's most recent show in Melbourne, Florida, went off without a hitch despite a local radio station offering to pay people to interrupt it. In the end, there was just one protester who remained outside.
"These people are prodding and pushing people and asking people to have a frat house mentality," Cosby said. "Now suppose someone brings a weapon or decided to do more foolishness. There will be announcements made and the stations made some disclaimers, but what if people don't listen to what they said and they entice violence. That's not good for anyone."
Going forward: While that particular performance may have gone over well, the same can't be said for his other plans in the industry. NBC killed its Cosby-led sitcom, Netflix pulled its planned Cosby special and TV Land stopped airing Cosby Show reruns.
This is the first time the comedian has spoken publicly about the accusations. He canceled multiple interview appearances as more women spoke out and reacted with literal silence when an NPR interviewer asked him about the allegations on air.
Until he responds at length, it looks like Cosby's desire for "fact checking" is really just a request for everyone to stop talking about it.