This Man Stood Up to Catcalling — and Nearly Paid the Ultimate Price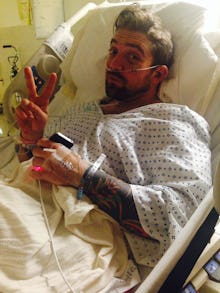 GoFundMe
The news: In the latest example of street harassment turned violent, a San Francisco man was nearly murdered after telling another man to stop harassing, or catcalling, his girlfriend. Ben Schwartz was stabbed at least nine times, almost to death, by the currently-unidentified stranger.
"At first we tried to just ignore it, just kind of walk away and make our way home, cross the street and try to take a different path," Schwartz told ABC 7. But when the unidentified man kept following the couple, Schwartz prepared himself for a confrontation. "It turned violent very quickly, punches thrown," he said. "Next thing I know, I kinda had a knife in the back of my neck."
To raise money for his medical bills, a GoFundMe campaign page has been created, which also describes his brutal injuries:
Ben was rushed to SF general where he underwent surgery to close a punctured lung and to stitch the deep wounds along the back of his neck, back, face, and arms ... The doctors say he is very lucky to be alive considering how close the cuts were to main arteries and one just missing his spinal cord. 
Had his spine been struck, Schwartz could have easily been paralyzed. Donors have already raised around $30,000 to help assist him in his recovery.
The background: Catcalling-related violence is far from unheard of. As Think Progress reports, in August a Philadelphia man was beaten into unconsciousness by a group of men he told to stop harassing women. And women themselves are often attacked; Think Progress documented at least two cases in which women were physically abused by catcallers in October.
Almost all women report experience some form of street harassment. Online polls conducted by Stop Street Harassment founder Holly Kearl documented some of the abuse women encounter just for going outside. Of those, 95% had been the target of "leering or excessive staring" while going outside, while 87% reported being the target of a sexist comment in public. An astonishing 75% had been followed by someone they didn't know, while another 57% reported "being touched or grabbed in a sexual way by a stranger in public."
Another national study from Stop Street Harassment in 2014 concluded that the real numbers may be somewhat lower, but that harassment is still extremely common for women.
A now-famous video released in October showed how over the course of just 10 hours in NYC, a woman could be subjected to torrents of sexual comments, catcalls and even some stalking.
That's already a lot of well-documented abuse. Furthermore, as the Washington Post's Lauren R. Taylor writes, it's important not to forget that plenty of gender-based discrimination and inappropriate advances happen in white-collar settings as well. They're just less visible.
On the street, though, there's always the possibility of a sketchy situation turning into a dangerous one. Anonymous catcallers could just be crude wannabe smooth-talkers, or they could be unstable ticking time bombs just waiting for the opportunity to stab someone. Women, or good Samaritans like Schwartz, simply can't know the difference until it happens. Raising awareness of and taking action to end street harassment is both a matter of gender equality and public safety.