One University Is Finally Acknowledging Its Campus Rape Crisis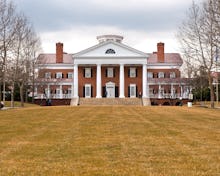 The news: The University of Virginia suspended all fraternities and their activities Saturday, following the recent Rolling Stone story that exposed the university's seemingly total disregard of sexual assault on campus. The Rolling Stone article, which was published last Wednesday, demonstrates a rape culture on the UVA campus that's so pervasive some students refer to the school as "UVrApe." 
The story partially focuses on the case of an 18-year-old freshman, labeled in the article as "Jackie," who allegedly suffered a brutal gang rape at the hands of seven members of the Phi Kappa Psi fraternity. After the rape, Jackie faced a culture of denial, secrecy and indifference. When she went to Dean Nicole Eramo, head of UVA's Sexual Misconduct Board, and asked why UVA rape statistics weren't published, Jackie claims Eramo told her it was "Because nobody wants to send their daughter to the rape school."
While a single article may not be enough to tackle such a pervasive problem at one of America's most well-known colleges, it seems to have at least ruffled some feathers and may potentially bring about change.
"The wrongs described in Rolling Stone are appalling and have caused all of us to reexamine our responsibility to this community," Teresa A. Sullivan, the university's president, said in a statement Saturday. "Rape is an abhorrent crime that has no place in the world, let alone on the campuses and grounds of our nation's colleges and universities."
Sullivan said all fraternities would be suspended until Jan. 9, 2015 and the university would "discuss our next steps in preventing sexual assault and sexual violence." It's not yet clear what those next steps might entail, but for a school that seems to have stuck its head in the sand for so long, recognizing the pervasiveness of this issue is at least a step in the right direction.
Other universities have similar problems. The University of Virginia is just one on a list of 76 universities — also including Harvard and Dartmouth — that are under investigation for mishandling rape allegations.
But even universities not under investigation have a culture of toxicity around sexual assault. At the University of Edinburgh, the Delta Kappa Epsilon fraternity recently joked about taking campus feminists on "rape trips." Columbia University's problems concerning sexual assault were brought to light when senior student Emma Sulkowicz began carrying her mattress around campus every day, intending to keep doing so until her rapist is expelled.
Too little, too late: However, UVA's culture around rape might be even more surreptitious and sordid if the Rolling Stone article is anything to go by. While UVA is finally bringing its problems to light and attempting to find a solution, the university is only doing so because it was forced. It looks like there's still a lot of work to do.