Ferguson Now Has the Most Powerful Street Art in America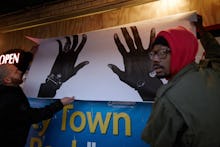 Ferguson, Missouri — Damon Davis spent Thursday zigzagging across West Florissant Avenue, a paint roller in one hand and a bundle of posters under his arm.
His idea was simple: Since last summer, the quiet suburb of Ferguson, Missouri, had been through such radical upheaval it no longer resembled itself. It needed to be reclaimed.
"I wanted to do something with the boarded-up buildings," Davis told Mic. "Something visually appealing, just to give the people hope, and let them know we stand with them."
The 29-year-old artist started snapping photos, eventually printing them out on about 70 sheets of paper. 
Here's what he did with them:
By now, you've heard what happened in Ferguson. The nation watched with shock Aug. 9 as the police shooting of an unarmed 18-year-old morphed into a law enforcement crackdown, tear gas canisters sailing through the air and rubber bullets hammering the bodies of protesting residents.
For more than a week, the city of 21,000 became occupied territory. Now it waits anxiously as a grand jury decides whether to indict Officer Darren Wilson in Michael Brown's death.
This is where the artist found his canvas. An East St. Louis native, Davis felt driven to transform the boarded-up buildings into symbols of solidarity.
The scene on West Florissant isn't exactly welcoming these days — where yawning glass storefronts once opened onto the two-way thoroughfare, plywood now makes an imposing barrier, turning barbershops and liquor stores into makeshift fortresses. 
Some businesses were broken into during the summer's unrest, so these are seen as precautionary measures. And with tensions mounting as jury deliberations drag on, many storeowners are bracing for a repeat.
Davis' project relies on the owners' cooperation. He hasn't hung a single sheet without their permission, and while many businesses support the protesters' efforts — letting the artist and his cohorts adorn their facades with these "hands up" posters, symbolizing the gesture Brown was allegedly making when Wilson gunned him down — other businesses prefer to remain "neutral," Davis said.
Davis isn't buying that explanation, however: "If you're making money off this community, there is no neutrality."
At the end of the day, his posters are designed to give the broader Ferguson community a powerful visual of what so many have been fighting so hard for. 
Hardly a day went by last week without some form of demonstration taking place, whether at the Ferguson police station, in the Shaw neighborhood of St. Louis or near West Florissant and Canfield Drive, the intersection near where Brown was killed.
Lesley McSpadden, Brown's mother, even stopped by her son's roadside memorial Saturday night at the Canfield Green Apartments to show her appreciation to the protesters.
"I might be the smallest person out here," she said to a hushed crowd of about 30, "but I'm still standing ... and I refuse to leave Ferguson."
Today, a row of upraised hands inspired by her son's final moments line the street around the corner, a potent and evocative backdrop for future demonstrations.
That is Davis' ideal, in the end: "Artists play a vital role, telling these stories and keeping history alive. [The posters] are important for people who may be on the fence to see. Maybe they'll change their minds [and start supporting us]. And for those who aren't on our side ... now they know we're still here. And we're not going to back down."