More Bizarre Details of Bill Cosby's Alleged History With Young Women Have Emerged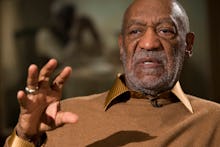 The news: Bill Cosby may have finally broken his silence regarding the growing pile of rape allegations against him, but the response is too little, too late.
In recent weeks, a staggering number of accusations against Cosby have emerged. Not only have these revelations cast America's once-favorite sitcom dad in terrible light, they have also highlighted a culture of cover-ups in the entertainment industry that have kept these allegations hidden for so long.
The latest charge comes from Frank Scotti, a former NBC employee who alleges that Cosby made him deliver thousands of dollars of hush money to eight different women from 1989 to 1990. In an interview with the New York Daily News, Scotti said Cosby also asked him to stand watch while teen models were brought up to his dressing room.
"It bothered me ... You've got all of these kids, every time," the 90-year-old Scotti told the Daily News. "I used to like him, but that's the reason I quit him after so many years — because of the girls."
"He had everybody fooled," he added. "Nobody suspected."
It's important to keep in mind what's significant about these stories. Since the story grew, a slew of rumors and charges have come out against Cosby, some more salacious than others, such as the apparent revelation from a confidential source to the Daily News that Cosby had a particularly strange pre-show routine every time he appeared on The Late Show With David Letterman:
"He'd include as a request, before he arrived, that the young girls, interns and assistants, all had to gather around in the green room backstage and sit down and watch him eat curry," our stunned source explains. "No one would say anything, and he would sit silently eating and make us watch and want us to watch."
But amid all the media dog-piling, we must consider how long these allegations have been going on, and why they've taken so long to come to light.
In an extensive timeline compiled by Vulture, the accusations against Cosby go back for at least a decade. But it wasn't until October, when comic Hannibal Buress performed an explosive routine about Cosby that mainstream media started paying attention:
While numerous accusers have come forward since then, it's unfortunate that it took a male voice in the entertainment industry to lend credence to allegations that have been going on for years. All the dirt that has been swept under the rug for decades is now coming out, but it's a wonder why it took so long for that to happen.