Lorde's Thrilling AMA Performance Proves She Was Robbed of an Award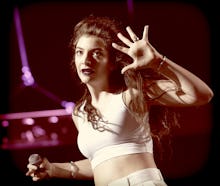 Lorde got robbed at the American Music Awards on Sunday night. She was up for three awards, and she lost on each to artists who, frankly, are far worse — Katy Perry, One Direction and Imagine Dragons.
Despite the disappointments, Lorde still gave one of the most thrilling performances of the night, singing her latest, "Yellow Flicker Beat," from The Hunger Games: Mockingjay, Part 1 soundtrack in a grippingly inventive way. This is why she should been one of the biggest winners of the night.
Lorde's performance had none of the pageantry, glitz and glamor of most of the other performances. But there's no need for glitz with thought-provoking lyrics and inspired singing — she sounds like nothing else on the radio right now. The way "Yellow Flicker Beat" builds from a soft looping hum to an epic, headbanging chorus is absolutely chilling. Perry and One Direction, who beat Lorde for Favorite Female Pop Artist and Best Pop Album, respectively, might make more accessible music, but definitely not better music.
The American Music Awards differ from the Grammys or the MTV Video Music Awards in that they're decided primarily by music listeners instead of the Recording Industry Association of America. Several music critics have already reasoned that, when given the choice, listeners frequently chose familiar and derivative songs over more innovative and progressive music. The American music-listening public has made their choice, and they seem to want more of the same.
But in terms of legacy and genuine impact, Lorde will always come out on top. This performance only proved it.