Here's the Real Reason Chuck Hagel Was Forced to Resign as Secretary of Defense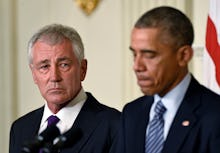 The ouster of Chuck Hagel, who announced his resignation as secretary of defense Monday, says more about the shifting priorities of the Obama administration's wars in the Middle East than it does about Hagel's effectiveness as Pentagon chief.
This was not the job he signed on to do.
The Republican former senator from Nebraska arrived at the White House with a clear agenda. At the very top of the list was managing the U.S. military's slow departure from Afghanistan. He was also expected to help maintain the fragile balance of power in post-occupation Iraq. And he had to do it all while restructuring the Department of Defense, which had spent more than $5 trillion since 2001, to operate with significant cuts to its budget.
When Hagel was introduced as President Barack Obama's nominee to lead the Pentagon in January 2013, he spoke about his solemn duty to the thousands of men and women returning home from the battlefields of Iraq and Afghanistan.
"These are people who give so much to this nation every day with such dignity and selflessness," the decorated Vietnam veteran said. "This is particularly important at a time as we complete our mission in Afghanistan and support the troops and military families who have sacrificed so much over more than a decade of war."
But Hagel, now on his way out after less than two years, was confronted with constantly shifting priorities at home and fast-developing threats abroad.
In the past few weeks, Obama has secretly ordered military leaders to broaden their mission against a resurgent Taliban in Afghanistan. The war in Iraq — which was supposed to have "ended" by the time Hagel was sworn in — has been renewed as a fight against the Islamic State militants who trampled the Iraqi army, leading to the dissolution of Prime Minister Nouri al-Maliki's government in Baghdad. Now in its fourth month, the conflict is, by the president's own account, expected to go on for years. On Nov. 7, the Pentagon revealed that 1,500 new U.S. troops were headed to the country, bringing the total to 3,000. 
Hagel was brought on board as a steward — someone to quietly oversee the slow rebuilding of the institution. In recent months, he was being asked to do something entirely different: Lead the Pentagon as it crafted strategies to make war, rather than end it.
The New York Times reports that "officials characterized the decision as a recognition that the threat from the militant group Islamic State will require different skills from those that Mr. Hagel, who often struggled to articulate a clear viewpoint and was widely viewed as a passive defense secretary, was brought in to employ."
Those anonymous officials should take a look in the mirror. They could just as easily have been talking about the White House itself. Pinned down by a series of unexpected global crises, the administration lost its focus on Iraq and Afghanistan. In its haste to remove American troops — no bad thing on its face — they underestimated the effect of the damage done by that decade of bloodshed and occupation. 
Now, with America's two long wars raging again, the time had come for a serious change. But even as Hagel leaves, the conflicts and contradictions that sealed his fate remain. His will not be an easy, or enviable, act to follow.