Old Navy Controversy Exposes a Major Problem With Plus-Size Clothing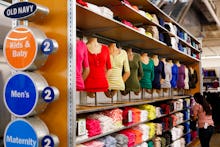 Old Navy looked like it was playing nice on Friday, when it finally conceded to a vocal Change.org petition pressuring it to fix its unfair pricing for plus-size clothing. 
Except that Old Navy's concessions, which petitioners declared a victory, curiously didn't include the main demand of the petition: to charge plus-size shoppers and "straight-size" the same for identical clothing styles. Instead, Old Navy announced that it will "allow in-store returns of women's plus-size clothes [purchased online], starting Dec. 5. This was an important issue raised through this dialogue, and we're pleased to make this change in response to the request of our customers," according to a company representative.
That change, while welcome, actually highlights a massive problem: Plus-size clothing isn't available in stores. 
As an Old Navy rep confirmed to Mic, Old Navy's plus-size styles for women must be purchased online, a policy that's in line with other major retailers'. A HuffPost Style report from 2013 found that stores like H&M, Ann Taylor and J. Crew tended to limit their in-store offerings up to sizes 12 or 14, while relegating plus sizes to their websites. 
With the average American woman wearing a size 14, that's a big problem.
Of all the challenges plus-size shoppers face (and there are many), finding clothes that they can actually try on in stores might be the biggest. A 2013 ModCloth survey found that American women who primarily wear plus sizes are twice as likely to shop online daily than those who wear "straight sizes." Unfortunately, shopping online just doesn't cut it for most women. Fashion designer Kenyatta Jones explained the problem to HuffPost Live:
"At the end of the day, each designer designs in a different way. So if you're stuck only shopping online, 9 times out of 10, you're going to get something that doesn't fit ... Fit is very important for a fashion designer for us, but if you're ordering it online as opposed to trying it on in-store, you're just going to end up sending it back and then you have nothing."
Indeed, the return rate for clothing of any size purchased online is high. One study reported between 15% and 40% of clothes purchased online don't fit and are returned, and clothes are more likely than other online purchases, such as toys or tech, to be sent back. The retail industry is still struggling to create an online shopping system that replicates the fitting room experience (although several companies are making a go of it). 
The challenge of finding properly fitting clothes on the Internet is particularly acute for plus-size shoppers, who are often left with no other choice but to resort to websites. Some fashion retailers, like Forever 21, stock their larger sizes selectively in certain stores; others, like Old Navy, leave nearly everything online. (An Old Navy store associate told Mic that some non-numerically priced items in sizes XL or XXL could be found on store shelves.)
Moreover, the lack of plus sizes on the shelves isn't necessarily an innocent business decision. Lululemon and Abercrombie & Fitch have both faced allegations of purposefully discriminating against larger shoppers in order to preserve a cooler image. 
Old Navy hasn't been accused of the same; online, the store proudly touts its wide selection of clothing sizes 16 to 30. As an Old Navy rep told Mic via email, "The assortment of products designed for our important plus-size customers will continue to be sold online so that we can provide our customers a great selection of options for their wardrobe."
But the fact of the matter remains that those clothes are only available online and not in stores, not to mention the clothes cost more than their doppelgängers in the "regular" women's department.
Still, change could be coming, possibly via the company's newly announced "customer advisory panel," starting in January. "Old Navy has assured me," writes Renee Posey, creator of the Change.org petition, "that addressing more equitable pricing for plus-sized women, improved plus-sized offerings, real women wearing the clothing that they sell to us online and a return of the plus-sized line to brick and mortar stores will be the central topics of the customer panel."
It's a long to-do list, but one that will help millions of American women when it's complete.