Walmart Workers Respond to Offensive Donation Bins With a Powerful Message of Their Own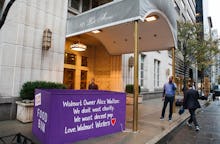 When news broke last week that an Oklahoma City Walmart was holding a donation drive to feed employees who couldn't afford a Thanksgiving dinner, critics pointed to the move as further evidence that the massive retail chain refuses to pay its workers fairly.
Walmart employee La'Randa Jackson wrote an impassioned letter Friday to Walmart heir Alice Walton, telling her that she wanted fair pay, not charity:
"It's not just Thanksgiving dinner that's an issue; it's dinner every night ... Ms. Walton, my co-workers and I don't want your food bins. We work hard and we don't want your charity.
Union-backed Walmart strikers backed Jackson's plea with a perfect act of public embarrassment: They delivered their own oversized donation bin to Walton's $25 million New York City condo with the message "We don't want charity. We want decent pay" on the side.
Ultimately, the giant bin looks to have been promptly removed by staff:
Labor organizers say they are preparing a mass employee walkout at 1,600 American Walmart stores on Black Friday in an attempt to disrupt shopping. According to Business Insider, more than 60 protests are planned in the Washington state area alone.
The background: Forbes estimates Walton is worth an astonishing $38.8 billion, making her one of the richest people in the world. The Walton family is well known for its stinginess — in June, a report funded by labor groups concluded that the five heirs collectively donated $58.49 million over the past 23 years, or just .04% of their wealth. The five Waltons control more wealth than the bottom 40% of the country.
In comparison, more than half of the chain's American employees make less than $25,000 a year. The progressive tax policy organization Americans for Tax Fairness estimates that public assistance to Walmart workers costs the government more than $6 billion every year. One manager wrote to Gawker complaining that a median Walmart associate makes less than $9 an hour and that employees "could not question the company's direction or offer critical feedback to the leadership" without facing retaliation from superiors.
The chain responded to criticism of the donation bins by pointing to a post on its blog explaining the food was being collected for employees who were on medical leaves of absence and decried the "negativity" of labor attacks on its staffing practices. It declined to provide further details to Mic about how it would reach its stated goal of increasing the compensation of its associates. While Walmart says full-time employees make an average of $12.83 an hour, many of its workers are part time, and Walmart has reportedly cut associates' hours dramatically to save on labor costs.
Walmart can afford to do better. It doesn't have to be this way — Walmart can provide employees with a reasonable standard of living without compromising profitability. According to an analysis by Marketplace and Slate, prices would hardly have to budge to offset the cost of raising its employees' wages to about $12 an hour.
With an estimated 1.3 million employees, forcing change at Walmart for the better would improve the lives of hundreds of thousands of people. Friday's protests are widely expected to be the largest ever directed at the company as well as the most public — let's hope that people take a break from their deal-hunting to give those workers their due.
Correction: Nov. 24, 2014
The original version of this article stated that over 60 protests are planned in the Washington, D.C. area. Rather, they are planned in Washington state.