15 #BlackLivesMatter Tweets Everyone Needs to See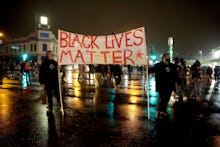 On Monday, after months of deliberation, a grand jury in Clayton, Missouri, reached a decision in the case of Michael Brown. Brown, an unarmed black 18-year-old, was fatally shot by Darren Wilson, a white police officer, on Aug. 9 in Ferguson, Missouri.  
The verdict? No indictment.
In a press conference on Monday night, St. Louis County Prosecuting Attorney Robert McCulloch told those gathered that the grand jury had brought no charges against Wilson. 
Back in August, Brown's death spurred protests almost immediately — in Ferguson, in New York City, in Oakland, California — in reaction to what members of the Ferguson community and beyond saw as a disturbing trend in how America thinks about young African-American men. Brown was yet another young black man gunned down by police with relative impunity, and yet another reminder that, in the United States, black lives are seen as undervalued and expendable.
Monday's decision only added to that feeling. We're left with a harsh truth: When it comes to the lives of young black Americans, the legal system doesn't seem to care enough to deliver even the smallest sliver of justice. The lack of judicial action surrounding the immediate aftermath of Brown's death reinforced the idea of different values placed upon black and white lives in America.
The national conversation is even more prescient given the death of 12-year-old Tamir Rice, who was shot by police officers on Saturday in Cleveland and died early Sunday morning from his injuries. His crime? Carrying an airsoft gun. Like Michael Brown's before him, Rice's death has become yet another example of how a black man's life is worth less than a box of cigars or a carton of cigarettes. 
A hashtag campaign, #BlackLivesMatter, gained momentum in recent days as the country awaited the grand jury's decision. The thrust of the messages is that black lives are just as important, and just as worthy of our attention, as everyone else's. In a perfect world, it's a message that wouldn't need to be said at all, but as countless cases have shown, the world doesn't exist in a vacuum. 
Monday's tweets put the campaign into even sharper perspective:
There were many others who came before Brown, and others who have come after him. Sadly, they will likely not be the last ones. But Brown's death in particular has echoed loudly within the context of our national debate, and until black lives are valued in the same way white lives are, these echoes will continue.