This Is What Ferguson Looks Like Right Now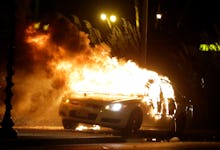 Nearly four months after Michael Brown was fatally shot by Officer Darren Wilson in Ferguson, Missouri, unrest in the St. Louis suburb has reached a crescendo following the decision by a grand jury to not indict Wilson for shooting the unarmed teenager.
Despite a press conference held before the grand jury's announcement by Missouri Gov. Jay Nixon calling for people of all sides to "show tolerance, mutual respect and restraint," residents of the embattled town have been gathering outside Ferguson Police Department headquarters since the impending decision was announced this afternoon.
Following the fatal shooting of Brown on Aug. 9, the predominantly black suburb exploded with protests, demonstrations and even violence for several days, with locals accusing the majority-white police force of a pattern of unnecessary force against black men. The military-style response to the unrest by state and local law enforcement had observers across the country describing the town as a war zone.
Once the decision was announced by St. Louis County Prosecuting Attorney Robert McCulloch, the backlash was immediate.
As hundreds gather in downtown Ferguson, chanting "Indict the cop!" and "Fuck the police!", local law enforcement has been cautioned by state and federal lawmakers to restrain themselves. In August, the police and national guard were widely criticized for a militaristic crackdown on protestors and journalists.