Here's Darren Wilson's Statement on the Michael Brown Grand Jury Decision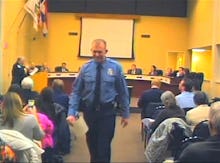 On Monday night, St. Louis County prosecuting attorney Robert McCulloch announced that the grand jury reviewing the death of 18-year-old Michael Brown would return no indictment against Darren Wilson, the police officer who shot and killed Brown on Aug. 9. 
"They determined that no probable cause exists to indict Darren Wilson," McCulloch said at a press conference, according to MSNBC.
While protests raged in Ferguson and around the country, Wilson's representatives issued a statement on the decision. "Law enforcement personnel must frequently make split-second and difficult decisions," it read. "Officer Wilson followed his training and followed the law."
"We recognize that many people will want to second-guess the grand jury's decision. We would encourage anyone who wants to express an opinion do so in a respectful and peaceful manner," it continued. 
Here's the full statement:
CBS, reporting on the findings of the grand jury report, tweeted out the following photos of Wilson after Brown's death: 
In recent days, reports emerged that Wilson was seeking an interviewer for a media appearance. Reports also surfaced that Wilson had received a marriage license in October. 
Meanwhile, protests continued to rage around the nation through the night on Monday in response to the grand jury's decision.