If You Needed Convincing That Marijuana Can Be Good for You, Meet This Young Boy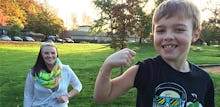 The news: It's been a good month for marijuana legalization in America. Earlier this month, voters in Oregon, Alaska and the District of Columbia approved the use of recreational pot, while Colorado and Washington have already successfully demonstrated the economic benefits of legal weed.
But if you want to see how laxer marijuana regulations benefit people at the individual level, look no further than the story of Forrest Smelser, a 9-year-old boy in Oregon suffering from epilepsy. Since he was diagnosed about a year ago, Forrest's condition worsened to the point that he would sometimes seize every 15 minutes, and the anti-seizure drug Trileptal made him suicidal.
Desperate, Forrest's family decided to try an unconventional treatment: medical cannabis. And the results were remarkable. "I have my son again. He's not this fog of a child. He's not this angry child. He's my child exactly," Tanesha Smelser, Forrest's mother, told KOMO News.
Forrest has now been seizure-free for nine weeks and feels much better. "Now that I'm on this medication, I feel like a normal boy," he said.
Forrest is not alone. According to the Oregon Health Authority, 195 of the 69,004 participants in its medical marijuana program are under the age of 18, with some as young as 4.
Among its many potential health benefits, medical marijuana has shown positive results for epilepsy treatment, especially for patients who have physical resistance to traditional medications. A special strain cultivated for pediatric epileptic treatment, called Charlotte's Web, has become widely popular.
Of course, given marijuana's Schedule I controlled substance status, there haven't been enough peer-reviewed scientific studies to confirm that the treatment is successful and poses no danger to children. But strains like Charlotte's Web — named after an epileptic patient who benefited from the treatment when she was 5 — are bred to contain no psychoactive ingredients.
But there is still much progress to be made. Despite the benefits of medical marijuana, its legal status means that it isn't covered by medical insurance; in Forrest's case, his family had to relocate to save money on the cannabis pills.
And for families that live in states with stringent marijuana laws, relocation has become the only option to supply their children with strains such as Charlotte's Web.
Still, there has been a lot of good news for Forrest. Since moving, he has been receiving his medical marijuana pills from an Oregon dispensary called TJ's Organic Gardens at no cost at all. Jim Murphy, one of the owners of the business, said that the strain they used had less than 1% of psychoactive ingredients, and that they had enough medicine to supply 500 more pediatric patients free of charge.
"To be part of the fix is pretty special. It's a payment within itself," Murphy said. "It would be wrong of us not to do so."
As for Forrest, the treatment has completely transformed him. "It has saved his life. I know it sounds scary, and I know it sounds unconventional, but it's working," Smelser said. "It's working!"