Intense Photos Show Young People Protesting Government, A World Away From Ferguson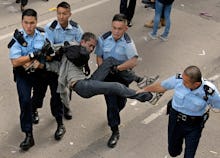 As millions watched Ferguson, Missouri, come close to tearing itself apart after a grand jury's decision not to indict the police officer who shot and killed an unarmed black teenager, another struggle against government malfeasance gained strength halfway around the world.
Thousands of protesters surged into the Mong Kok neighborhood of Hong Kong on Tuesday afternoon after police and court bailiffs began enforcing a court injunction to clear sections of the demonstration site. The ongoing protest movement, known by its social media calls-to-arms as #OccupyCentral and the #UmbrellaRevolution, began in June when pro-democracy activists held an unofficial referendum on political reform in Hong Kong's financial hub, Central District. The protesters are demanding democratic elections from a government controlled by the communist party in China's capital, Beijing.
Many protesters who resisted arrest were carried out while others stood their ground to mark the 58th day since the Occupy Central demonstrations began in late September. Despite police force, protesters are refusing to back down.
As night fell, demonstrators wielding umbrellas shielded themselves while police fired pepper spray from a cannon perched atop a mobile platform. The South China Morning Post reports more than 80 people have been arrested since demonstrations began Tuesday evening as scores of protesters, mostly students, refused to leave Mong Kok without government assurance for democratic elections in Hong Kong.
Protesters responded to police officers' orders to clear the demonstration site by chanting "I want true elections" and "We want real suffrage."
The initial online protests were followed by a large Central District rally in June that strong-armed the Chinese government into making "concessions": The Chinese government would allow direct elections in 2017, but voters would only be allowed to choose from a pre-approved list of candidates.
Cue mass demonstrations.
By September, Hong Kong students launched a weeklong boycott of classes in protest and joined forces with pro-democracy activists at Occupy Central. Hong Kong's Chief Executive Leung Chun-ying refused demands for his resignation, and talks between the protests' leaders and the government failed to reach any compromise. In mid-October, a video of police beating a protester in a dark alley surfaced, breathing new life into the movement. 
The government's grip tightened in mid-November, when student leaders attempted to travel to Beijing to meet with officials. Their boarding passes were denied and their travel documents suddenly became invalid upon arrival at the airport. 
"I came to defend Mong Kok," Cyril Wong, a sales representative, told the New York Times. "They want to clear this place. We will just stay here and defend it. If they use pepper spray or sticks, we will defend ourselves. We never attack the police."
The same grievances against inequality, injustice and government complacency are reaching a fever pitch from Hong Kong to Mexico. 
While millions of Americans and people around the world watch events unfold in Ferguson, it is easy to become fixated on the militarization of local police and forget that it is a symptom of a wider, complacent system: an issue born from the legacy of racism and the poverty it perpetuates.
The students and pro-democracy activists in Hong Kong are asking for the same opportunities. Allowing them to peacefully protest, rather than throwing tear gas and batons, chips away at our common dignity. Though they are an ocean apart, the protests in Ferguson and Hong Kong stand for the same rights.