Turkey's President Just Said Something Appalling About Women's Rights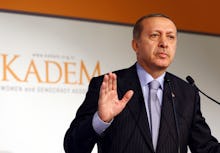 The news: Women's activists in Turkey are furious after a sexist tirade from President Recep Tayyip Erdogan, who on Sunday declared that women are unequal to men and that Islam provides no calling for them other than motherhood.
"Equality is turning the victim into an oppressor by force or vice versa. What women need is to be able to be equivalent, rather than equal," Hurriyet Daily News reports the president saying at the Women and Justice Summit in Istanbul. "You cannot bring women and men into equal positions; that is against nature because their nature is different."
While just saying that women's equality is "against nature" would certainly be enough cause for concern, Erdogan wasn't quite finished.
"Our religion gave woman a station. What station is this? The station of motherhood," Erdogan said. "Some people can understand this, while others can't. You cannot explain this to feminists because they don't accept the concept of motherhood. They have no such concerns."
He also claimed that women were unfit for jobs involving physical labor, citing women's "delicate nature."
The background: Erdogan's conservative moralizing has earned "the support of the country's pious Anatolian heartlands," reports al-Arabiya, but has often enraged the Turkish left. Previously, Erdogan has compared abortion to murder and instructed Turkish women to have at least three children.
Sexism is a rampant problem in Turkey. Between 2002 and 2009, murders of women skyrocketed by an astonishing 1,400%. A United Nations report released in 2011 concluded that domestic violence was running rampant in Turkish society, where 39% of women reported being the victim of some kind of physical violence — in the U.S., that number is 22%, while it ranges from 3% to 35% in the rest of Europe. It is possible these high numbers reflect increased reporting as well as increased violence, but either way, the stats are disturbing.
The New York Times reported in 2012 that while Erdogan's Justice and Development Party initially promised to make women's rights a priority when it rose to power in 2002, it has since grown more conservative. European Stability Initiative analyst Nigar Goksel told the paper that "[t]he government started off as an unlikely feminist but has dropped the ball."
Why you should care: In present-day Turkey, "women's rights are going backward as much as conservatism is increasing in society," professor Aysel Çelikel told Hurriyet. In a telling example, in 2011 the Ministry of State for Women's Affairs was renamed the Ministry of Families and Social Policies.
Al-Jazeera reports that women's groups are concerned that Erdogan's government has constructed 17,000 mosques but has only 120 official shelters for abused women, with a capacity of just 3,110 people, far short of the required capacity of around 28,000. Turkey ranked 120 out of 136 nations in the World Economic Forum's 2013 Gender Gap Index.
Irresponsible appeals to sexism are yet another sign to be skeptical of Erdogan, whose leadership of Turkey has been criticized as increasingly authoritarian.