Here's What the Media Isn't Telling You About the Protests in Ferguson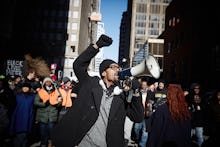 FERGUSON, MISSOURI — Jessica Dunkins, 29, woke up Tuesday to find out she no longer had a job.
It happened abruptly. A grand jury in Clayton, Missouri, chose not to indict Ferguson police Officer Darren Wilson on Monday evening for the Aug. 9 killing of Michael Brown. As demonstrators converged on the quiet suburb of Ferguson, some started smashing windows, and before long a stretch of West Florissant Avenue became engulfed in flames.
Dunkins got a call that night from her boss at the Prime Beauty Supply store. "People are trying to break in," he told her. That was the last thing she heard, until she walked to the corner of Florissant and Chambers the next morning and found this where her job used to be:
"I don't have time for shit like this," she told Mic. "This is so disrespectful to the Mike Brown family. ... It's not right, it's not right."
Tears streamed down her face as she spoke. Her hands quivered when she asked to borrow an extra pair of gloves. "Who all's going to help with some money so I can pay my rent?" she went on. "[Wilson's] still not going to jail ... and [now] I don't have no job."
There are hundreds of stories like this in Ferguson this week. All of them are heartbreaking and important  — and all elicit wishes that the verdict had come down differently. But as anticipation turned into devastation Monday night, the media's fixation on looting, rioting and destruction left little room for what's really been happening in Ferguson, long before the CNN vans showed up.
And that's a problem, because those stories need to be heard.
The violence that exploded Monday was confined to just one night (so far). Meanwhile, a string of nonviolent protests took place every night of the previous week — and almost no one in the mainstream media is talking about it.
This is not necessarily surprising. Contrary to the scolding rhetoric of President Barack Obama and Missouri Gov. Jay Nixon, most protesters in the St. Louis area share Dunkins' disaffection with the recent violence.
"We're peaceful," says Tory Russell, an activist from St. Louis. "That's the one thing I want people to know about us."
Groups like Hands Up United and Millennial Activists United have been committed to community building and nonviolent protest since day one, and their work in the months since August proves it.
In fact, most demonstrations in Ferguson unfold peacefully — assuming the police don't escalate them with wrongful arrests and chemical-spewing teargas canisters. But you'd never know it from the billowing smoke clouds and flashing police sirens you see plastered across your TV screens.
Case in point: Around noon Tuesday, protesters gathered at Kiener Plaza in downtown St. Louis and marched to a nearby courthouse. They clapped and chanted slogans all the way. Ashley Yates of Millennial Activists and local artist Damon Davis were among the hundreds in attendance.
"Who is Mike Brown? I am Mike Brown," the crowd shouted over and over again.
They eventually moved onto the Laclede's Landing ramp of Interstate 44 and shut down the freeway for almost a half hour. According to reports, a squad of police officers in riot gear met them there and escorted them off under threat of arrest (and mace).
Disruption is an important part of civil disobedience. It's a tool Ferguson's demonstrators have wielded successfully, with recent actions at the St. Louis Opera and a Rams NFL game this fall drawing attention to the ongoing struggle, even when the news cameras aren't around. In these cases, it's all been done peacefully.
So next time you turn on the news and see nothing but burning buildings and gutted storefronts, know that you're only seeing a fraction of the story. The rage is definitely here. But many people in Ferguson are choosing to fight injustice in other ways, too, and their stories aren't being told enough.