13 Photos Show What Is Happening Across America Right Now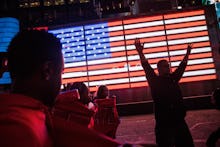 Ahead of the grand jury decision that cleared Officer Darren Wilson of any wrongdoing in the shooting death of unarmed black teenager Michael Brown, the city of Ferguson, Missouri was prepared for the worst — Gov. Jay Nixon declared a state of emergency, President Obama pleaded with residents of Ferguson to remain nonviolent and the FBI sent 100 agents to the town to head off unrest. Few were prepared, however, for the small town's outrage to sweep across the country.
Organized on social media, groups protesting the decision formed in major cities across the U.S. — and the night after, the number of protests has exploded. As Wilson makes his first public remarks about his role in Brown's death and Brown's family urges calm, nearly 100 protests have formed around the country. Some peaceful, some obstructive, the gatherings extend from America's biggest cities to its smallest towns, all outlets for the wellspring of anger bottled up since the Aug. 9 shooting.
New York City
Raleigh, North Carolina
Topeka, Kansas
Washington, D.C.
Atlanta
Times Square
Los Angeles
Milwaukee, Wisconsin
Seattle
Columbia, South Carolina
Philadelphia
Minneapolis
And, of course, in Ferguson itself.