This Map Shows Just How Much Marriage Equality Is Sweeping the Country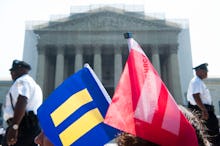 The news: If it seems to you like a new state is legalizing same-sex marriage every week, you wouldn't be wrong. On Tuesday, Arkansas and Mississippi became the latest to join this trend as federal judges struck down these states' same-sex marriage bans as unconstitutional.
"Though we cherish our traditional values, they must give way to constitutional wisdom. Mississippi's traditional beliefs about gay and lesbian citizens led it to defy that wisdom by taking away fundamental rights owed to every citizen. It is time to restore those rights," Judge Carlton Reeves wrote in his decision.
While the two states still have the option to appeal these rulings, they represent the most recent victories on the stunning road to marriage equality in the U.S.:
This is real progress. The victories demonstrate how marriage equality has essentially become an inevitability in America. Even states that have upheld their respective same-sex marriage bans — Michigan, Ohio, Kentucky and Tennessee — are having their laws challenged at the Supreme Court.
But there is still work to be done. While national support for same-sex marriage might be higher than ever, that doesn't mean that all attitudes regarding gay and lesbian couples have changed for the better.
According to a recent study published in the journal American Sociological Review, "For the most part, heterosexuals are as supportive of legal benefits for same­-sex couples as they are for heterosexual couples, but are much less supportive of public displays of affection (PDA) for same­-sex couples than they are for heterosexuals."
"Support for legal benefits for gays and lesbians should not be conflated with favorable attitudes toward same­-sex couples in general," lead author Long Doan said in a statement. "We come to the conclusion that although heterosexuals may be increasingly willing to grant legal benefits to gay and lesbian couples, entrenched prejudice that takes on subtler forms may remain."
So while the country is making headway in guaranteeing legal benefits for same-sex couples, there is still much to be done when it comes to changing hearts and minds. Until then, equality will really only exist in name only.