19 Photos From the Ferguson Protests That Shut Down New York City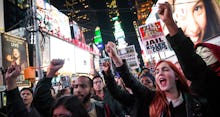 In the eyes of the law, the case is closed. But tens of thousands of people across the country demonstrated the night of Monday's grand jury decision to let the country know that while Officer Darren Wilson was not indicted for the death of unarmed black teenager Mike Brown, the boy himself has not been forgotten.
A second round of protests rocked St. Louis, Boston, Detroit, Seattle, New York and dozens of other major cities Tuesday night. In New York, at the demonstration promoted by Occupy Wall Street and other groups, including the Million Hoodies Movement for Justice, it was quickly clear that, if anything, protesters have only intensified their efforts in the past 24 hours.
Protesters waving signs labeled #BlackLivesMatter and demanding justice for the victims of police violence covered much of midtown and lower Manhattan all night, taking over Fifth Avenue, FDR Drive and Union Square. Protesters even forced the shutdown of the Triborough Bridge and the Lincoln Tunnel.
The march began in Union Square around 7:00 p.m. before massive crowds of protesters completely shut down traffic by marching south on Sixth Avenue into the city's West Village. The march then appear split into several groups, with some heading to block off the FDR and others heading to Times Square or downtown's financial district near Wall Street.
Despite claims that the NYPD was preparing for a riot, there was no apparent evidence of any violence on behalf of the protesters in NYC. The Wall Street Journal reports that they coordinated with the police department to avoid a showdown.
But no one in New York could have missed the massive demonstrations.
The number of people that showed up to protest was almost unprecedented. After the march began, the size of the crowds were estimated in the tens of thousands.
The NYPD responded by mobilizing large numbers of officers to try and maintain order, but didn't appear to directly intervene at first.
But by later in the night, arrests were reported in Times Square.
Protesters in Seattle apparently encountered riot cops much earlier.
As did those in St. Louis, who were told to disperse or face arrest.
In NYC, protesters came from all walks of life, including young people, students and older activists.
There were even Quakers.
Protest organizer Dante Berry, deputy director at the Million Hoodies Movement for Justice, told Mic shortly before the event that "The protests that are happening across the country are not just because of Ferguson or not just because of Michael Brown."
Berry emphasized that the reaction to the Brown indictment needed to lay a sustainable groundwork for continued protest, rather than fade away like protests responding to the shooting deaths of other black teenagers like Jordan Davis or Trayvon Martin. "We need to be having creative, militant and sustainable civil disobedience and non-violent direct action," he added. "In every death, there has been protests, but not of this size because this is a boiling point ... In every sense, this is a boiling point."
"The system was not set up or designed to protect black people at all ... In every regard, this is a clear stand that we need to do something about it, and policy isn't going to do that. Policy is a place to put a band-aid over it, but it's not going to get to the underlying causes and root issue of white supremacy and marginalization."
From the looks of it, Berry and others who care about social justice may have some room to be optimistic. The outrage over Officer Wilson's apparent impunity isn't dying down. The groundwork for an effective, sustained movement against police targeting of minorities as already been laid, and it doesn't look likely to go away anytime soon.