19 Indie Christmas Songs That Deserve to Be Classics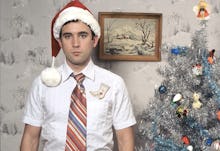 Now that we've given thanks and gorged on gluttonous amounts of turkey, it's time to fully embrace Christmas and the music it brings. But as thrilling as it is to hear Mariah Carey's ubiquitous rendition of "All I Want For Christmas Is You" for the millionth time, there's an entire sub-genre of indie Christmas music that gets far too little recognition.
Plenty of artists in this sphere have tried their hand at holiday classics and at covering the timeless standbys, sometimes with tongue firmly in cheek, other times more sincerely. Others have contributed heartwarming originals to the canon. Regardless of intent, the results are a welcome break from the often stale Christmas recordings we all grew up with.
Here are 19 of the best indie Christmas songs for alternative holiday ambiance. You can hear the full playlist here.
"Christmas in the Room" by Sufjan Stevens
Stevens, known for incorporating his Christian values into most of his music, shines on the 10 (10!) Christmas albums he has released from 2001 to 2010. "Christmas in the Room" is an example of the unique charm that's made his records new Christmas staples. Its instrumentation sounds like a classic carol, but Stevens' lyrics are a poignant take on recapturing childlike wonder through love.
"Santa Stole My Lady" by Fitz & The Tantrums
The infinitely catchy neo soul group's contribution to the new Christmas songbook is sort of a reimagining of "I Saw Mommy Kissing Santa Claus," except here, Kringle makes adulterers of females everywhere, luring them away from their men with his exotic North Pole charm. Let's hope this song isn't based on a real experience.
"Christmas All Summer Long" by Deer Tick
Somebody spiked Deer Tick's eggnog: They might think Christmas actually is in July, but whatever the case, the tune is a grungy rockabilly adrenaline shot. The song is included on the group's 2010 single Holy Shit, It's Christmas, which is more dissonant cacophony than this actually-good, should-be new classic. Still, the song is pretty great.
"Holiday Road" by The Walkmen
Lindsey Buckingham's original version of the song, as it appeared in the National Lampoon's Vacation movies, is one of the catchiest pieces of recorded audio ever. When The Walkmen covered it as part of the AV Club's Holiday Undercover series, they took it in a more rockabilly direction while showing the track's timelessness and why it deserved to score the classic misadventures of the Griswolds.
"I Wish It Was Christmas Today" by Julian Casablancas
The song, as originally performed on Saturday Night Live, is purposefully awkward and ultimately not that great, but The Strokes' frontman fleshed out the sparse instrumentation on record and turned the gag into a legitimate Christmas song. His version is an improvement in every way, aside from the absence of Tracy Morgan's dancing.
"All I Want for Christmas" by Yeah Yeah Yeahs
There's no need to reinvent the wheel, so the Yeah Yeah Yeahs' take on the holiday classic is relatively standard. Insofar as Karen O is ever standard. Their performance is light and airy but still has the indie garage sound the group is loved for.
"Baby, It's Cold Outside" by She & Him
She & Him perfectly embody indie holiday music. Their aesthetic is decidedly classic, but their 2011 album A Very She & Him Christmas is a perfect way to bring the older songs into a modern, less sacharine context. This version is fantastic, but not quite as entertaining as the time Will Ferrell walked in on Zooey Deschanel singing it in the shower.
"Xmas Time is Here Again" by My Morning Jacket
The rustic, folksy atmospherics of early My Morning Jacket serve the season well. The extended instrumental sections are great for feeling pleasantly drowsy, perhaps while gazing at the fireplace with a blanket wrapped around you and hot cocoa in hand.
"Christmas (Baby Please Come Home)" by Death Cab for Cutie
This one's been covered by everybody from R.E.M. to U2, all of whom have put their own emotional brand into their recordings. Death Cab For Cutie have done the same thing, with Ben Gibbard's idiosyncratic vocals adding a new charmingly pained dimension.
"Last Christmas" by The xx
The English group took Wham!'s '80s upbeat, pop holiday classic, put it through the xx filter for the BBC Radio 1 Live Lounge and out came a new enchantingly melancholic, synth-dominated version. It's a clever subversion of the original that eradicates all traces of Wham! in favor of something dark and indie. 
"Winter Wonderland" by Radiohead
It doesn't get more classically Radiohead-strange than this: In December 2002, the group, sans Jonny Greenwood, hosted a webcast called Inside Out Night, during which Thom Yorke had a DJ set, others wore masks of George W. Bush and Saddam Hussein and the band busted out an unhinged but enchanting version of the holiday staple.
"Wonderful Christmastime" by The Shins
The Shins opted to cover Paul McCartney's 1979 Christmas classic for the Starbucks compilation Holidays Rule, and the let the Beatles-style harmonies take center stage. This is a great example of the "If it ain't broke, don't fix it" model of covering songs.
"Happy Xmas (War Is Over)" by The Polyphonic Spree
The eternally blissful robe-wearing masses of The Polyphonic Spree of course chose arguably the most anthemic Christmas song to perform. Its grandness plays to their strengths: conjuring emotion and making perfect use of their 15-plus band members.
"Have Yourself A Merry Little Christmas" by Bright Eyes
As is par for the course for Connor Oberst, his take on "Have Yourself a Merry Little Christmas" is sparsely arranged and largely impactful. The near-whispered vocals, pensive piano and reflective strings make the recording sound more like it's sung for a lost lover than for the purpose of spreading holiday cheer. But hey, we'll take it.
"Santa Claus, Go Straight to the Ghetto" by Belle & Sebastian
Gone are the "uh!"s from James Brown's original version of the song, but Belle & Sebastian make their cover about as funky as they are comfortable with. They did manage to leave Brown's iconic egotism in tact, still insisting to Saint Nick that he tell the ghetto dwellers that he's there because of Brown.
"Christmas Party" by Dr. Dog
What's nice about holiday songs from bands like Dr. Dog is that they usually don't hold any of the artist's style back. Instead of conforming to holiday aesthetics, we get what the band actually sounds like. In Dr. Dog's case, they sound like one big party.
"Away in a Manger" by Mark Kozelek
Kozelek went with tradition with the Christmas album he felt compelled to announce around this time last year. Regardless, that Sun Kil Moon's dulcet baritone suits slow holiday tunes wonderfully.
"Christmas Unicorn" by Sufjan Stevens
On "Christmas Unicorn," Stevens' indie mysticism is on point. He even finds a way to make a comfortable and pleasing transition to Joy Division's "Love Will Tear Us Apart" toward the end of the 12-minute anthem.
"Silent Night" by Low
Slowcore pioneers Low were also early adopters of indie Christmas music, releasing their 1999 EP Christmas before Christmas albums were en vogue for bands like themselves. It's fortunate they decided to break that mold, as it turns out their downbeat bleakness is perfect for songs like "Silent Night," and without them, the swelling of indie Christmas music popularity might have been long-delayed, if it would still have happened at all. Without an It's a Wonderful Life style Christmas Eve, we may never know.