11 Important Life Lessons That Chris Pratt Taught Us in 2014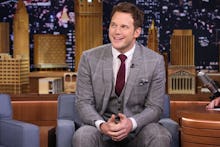 With his energetic sense of humor, dashing good looks and heart of gold, everyone pretty much fell in love with Chris Pratt this past year. 2014 has been huge for the funnyman — he starred in two of its biggest movies (Guardians of the Galaxy and The Lego Movie), was named one of GQ's men of the year, graced the stage of Saturday Night Live and will continue to play the doofus Andy Dwyer on the long-awaited final season of Parks and Recreation. His breakout fame is totally deserved.
Pratt has also proved to be an overall amazing human being, staying totally down-to-earth while being his zany self in countless interviews and appearances. He's someone that we can all learn a little from. Check out these pieces of life advice from our favorite goofball of the year. 
Sometimes taking chances will have hilarious consequences.
After originally posting the photo as a #throwbackthursday, Pratt later explained the backstory on The Tonight Show. Apparently while he was at the post office, a photographer noticed him and asked him to come back to his place, shower and change so he could take his picture for free. The photo might have seriously been used for his portfolio in 2000, but now it provides a good laugh. If he'd never gone home with that photographer, Douchemaster McChest would have never been documented. Thankfully, taking a chance on that encounter did not end with Pratt getting kidnapped. 
"Being brave is pretty sexy."
The dashing Pratt joked around when asked about his feelings regarding rumors about him being nominated as one of People magazine's Sexiest Man Alive. But when he heard that Neil Patrick Harris was another possible contender, Pratt applauded NPH for being out in Hollywood when most actors don't want to talk about their sexuality. 
It's OK to suck at sports. 
With his ripped physique, most would think that Pratt would be pretty athletic. But after a horrible first pitch at a Chicago Cubs game looks like he's more jokes than brawn, or maybe the nerves took over and the bad pitch was just a slip-up. We'd like to think the former, since it makes the rest of us feel better about being crappy at sports.
Unexpected skills will impress your peers. 
A French braid is no light task. It takes dexterity and craftsmanship to perfect the hairstyle. Pratt surprised us all during an interview when he showed off his hair braiding skills on an intern and made every single long-haired being swoon. He had already proved himself to be a hilarious guy, but the surprise braiding definitely put everyone in awe. 
It's courteous to give props to your artistic colleagues. 
Many talented individuals express their admiration for actors and singers through fanart. While many stars may brush off artistically inclined normals, Pratt has interacted with his followers and taken their work as compliments. 
Never give up on your inner kid. 
One of Pratt's best qualities is that he's a total doofus, but a lovable doofus who acts like a child in a man's body — in a good way. He's always cracking jokes and doing silly things. Here he shares one incident from the set of Guardians of the Galaxy, when he couldn't stop making gun noises while filming with a plastic blaster. His goofiness is totally genuine, which makes it so charming. 
You should find someone to love who loves food just as much as you do.
Pratt and his also-famously funny wife Anna Faris are totally adorable together. She even helped her husband celebrate the success of Guardians with tater tots. Faris also pulls pranks on her hubby, like pretending to get arrested with the help of Ellen DeGeneres. Finding someone with a similar sense of humor and appetite is necessary in any lasting relationship. We can only hope to find a romance like theirs. 
It's important to give back to your community.
Children and their families attended an early screening of Guardians of the Galaxy thanks to two charities, and were surprised by a guest appearance from the 35-year-old star. He took photos with all the kids and even talked about his own struggles growing up with no money. He also surprised a young boy who loves Legos in the hospital with a mitochondrial disorder. Even though Pratt has become one of Hollywood's biggest names, he continues to stay humble and remember where he came from.
Don't be ashamed by your body. 
Even before he got mighty muscular for his Marvel role as Peter Quill, Pratt wasn't afraid of showing off his physique. While on Late Night with Seth Meyers, the actor recounted how on the set of Parks and Recreation, he wasn't totally happy with one of Leslie's (Amy Poehler) reactions, so he surprised her with a dose of full frontal nudity — and it worked. Pratt's so dedicated to the craft that he'd uncover his gut for it. What a hero. 
Be fearless when it comes to trying again.
Pratt initially passed on the leading role in one of Marvel's biggest blockbusters because he was scared of trying to get the part, fearing a similar experience to his audition for G.I. Joe. Apparently that director's eyes glazed over — a disinterest Pratt attributes to his weight and being out of shape at the time. But Pratt nailed the Guardians audition, which made the director even consider keeping him plump, to have the world's first overweight superhero. Star Lord decided to lose weight anyway, since he saw it as a challenge. But...
Getting fit is actually living hell.
Despite the lies that some people spread, like how working out is "fun" and "enjoyable," Pratt has been upfront with the struggles of going from chubs to buff. We thank him for his honesty, especially with gyms bound to be crowded at the beginning of 2015 by people making "working out more" New Years resolutions.
But hey, it does pay off.
Hubba, hubba. 
Thank you, Chris Pratt. It's been an awesome year for you, but it's been even better getting to watch you succeed.