25 Courageous LGBT Celebrities Who Came Out of the Closet in 2014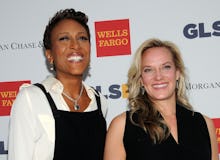 Coming out never looked so good.
From movie stars to country music artists, people came out of the closet in droves in 2014. Perhaps a byproduct of societal approval, or thanks to the tidal wave of legislative victories, LGBT Americans are feeling increasingly encouraged not only to accept their sexuality and gender identity but to feel comfortable asserting that identity in public.
As Mic has previously noted, "coming out" is something of a watershed moment in the life of an LGBT person. It is the moment when they put all their cards on the table and then wait to see if society accepts their true identity or not. There is also a larger purpose to the act: Each coming out story raises awareness of the community and humanizes various minority representations. 
In 2014, several individuals in the national spotlight chose to come out. Here are some of the people (many of whom had previously spent years in the closet) who bravely took one giant leap for LGBT-kind this year.
Robin Roberts
Technically, the Good Morning America anchor came out at the very tail end of 2013. But her decision, after years of speculation and nearly a decade spent with her partner in the face of more than one terminal illness, was arguably the greatest coming-out of the year. For all athletes, women and especially women of color, Robin Roberts is a true champion.
Ellen Page
Fans learned to love her as the sardonic, titular star of the movie Juno. But now the actress has grown up and came out in front of hundreds at an event called Time to THRIVE, which was held by the Human Rights Campaign. The now 27-year-old actress's touching, candid speech brought more than a few to tears.
Ty Herndon
Country music star Herndon always knew he was gay, but remained in the closet for the sake of his career in a relatively conservative field. At age 52, that finally changed. "I was 10, sitting in church and horrified that I might be a homosexual. Whatever that word meant, I knew that I probably was one," the singer told Rolling Stone. "And I know there's a lot of those kids still out there. Telling my story is an opportunity to help just one of them."
Tim Cook
After years of speculation, and at least one accidental outing (most recently by a CNBC co-host), Tim Cook came out in an op-ed in Bloomberg Businessweek in October. While never officially in the closet, Cook felt it imperative to come out publicly as a token of goodwill and to offer support to queer youth. "If hearing that the CEO of Apple is gay can help someone struggling to come to terms with who he or she is, or bring comfort to anyone who feels alone, or inspire people to insist on their equality, then it's worth the trade-off with my own privacy," he wrote in the piece.
Billy Gilman
After achieving his first chart-topper at the age of 11, this country music star came out just last week at the age of 26. In a YouTube video, he explains why he waited until now to be open about his sexuality. "It's difficult for me to make this video," he says, "not because I'm ashamed of being a gay male artist, or a gay artist, or a gay person. But it's pretty silly to know that I'm ashamed of doing this ... because I'm in a genre, in an industry, that is ashamed of me for being me."
Jin Tai
Former lead singer of the band Misster, Jin Tai made headlines in late November when she became Taiwan's first "out" pop music star at age 32. The Gay Star News cites a China Times report that Tai "wanted to honestly face her past and future, including her relationship status.'"
Ian Thorpe
In the years following his Olympic victories, Australia's greatest swimming champion apparently suffered for years from depression, as well as alcohol and drug abuse. The 31-year-old, five-time Olympic gold medalist came out in July after spending time in rehab. "I've wanted to [come out] for some time, but I couldn't, I didn't feel as though I could. What happened was I felt the lie had become so big that I didn't want people to question my integrity," he revealed in an interview with Australia's Network Ten, as reported by the Guardian. 
Vicky Beeching
Christian music star Vicky Beeching's coming out this past summer ignited heated debate about homosexuality and religion. "Arguaby the most influential Christian of her generation," to quote Peter Oremerod at the Guardian, Beeching became a LGBT icon when she took on and decisively shut down the bigoted arguments of a Christian fundamentalist in the following BBC debate: 
Former Miss Spain Patricia Yurena Rodríguez
Believed to be the first national beauty queen to be lesbian, Rodríguez won the Miss Spain pageant in 2008 and 2013. She came out this August, when she posted photos of herself with girlfriend, DJ Vanesa Cortes, on Instagram.
Sam Smith
The 22-year-old British singer-songwriter took the U.S. charts by storm this year, but he truly won our hearts in May when he came out after speculation about the person-of-desire alluded to in his song, "Leave Your Lover." "It's about a guy, and that's what I wanted people to know – I want to be clear that that's what it's about," Smith said in an interview with Rolling Stone. 
Raven-Symone
Raven pulled a That's So Raven twist when she came out without actually coming out — or, at least refusing to appropriate identity labels. The now-viral interview with Oprah ended years of speculation about the former Disney star's love life. Still, there's certainly nothing wrong with living life without labels. 
Lauren Morelli
Inspired perhaps by her writing — or at the very least being in close proximity with so many amazing queer influences  — on the set of Orange Is the New Black, writer Lauren Morelli officially "came out" in an op-ed piece here at Mic over the summer. Tabloids, not to mention the lesbian media, went bonkers when news broke that she had divorced her husband for none other than OITNB's Samira Wiley.
Kristian Nairn
Kristian Nairn, who plays the almost completely mute character Hodor, came out in an interview with a Game of Thrones fansite in May. But the Irish actor maintains he's never technically been in the closet: "I've never hidden my sexuality from anyone, my whole life in fact," he told the fansite Winter Is Coming, "and I've been waiting for someone to ask about it in an interview, 'cause it's not something you just blurt out. I've tried to lead the questions a few times, to no avail!"
Daniel Franzese
The Mean Girls star's most famous role may have been as the uber-flamboyant high school student Damian, but Franzese only officially came out in 2014. In a touching letter written to his Mean Girls  character and shared on social media, the 26-year-old actor touched on his own fears about coming out in an industry often preoccupied with a set of very specific masculinity standards. Franzese remained in the closet for so long, he contends, because he "was meeting a 'gay glass ceiling' in casting" and didn't want to be denied more masculine roles. "Guidos, gangsters and goombahs," he says, "were [his] specialty." 
Jay Kelly 
R. Kelly's son, Jay, came out as trans this summer on Ask.fm. Later in June, R. Kelly appeared to intentionally misgender Jay. But Jay's mother, Drea, later refuted and corrected in an interview with VH1. "Parents get it wrong when they don't support their children," she said. "They have to go out and fight every day and face this world. The first battle should not be at home. I think that a lot of children in the LGBT community don't succeed because the one thing they need the most is foundation. I just tell Jay all the time, baby, you won the war. You're gonna have a lot of battles, but you won the war. Mama accepts and loves you for who you are."
Tyler Glenn
Neon Trees frontman Tyler Glenn made headlines for coming out this spring — not just for being gay, but for being a gay Mormon. In his coming-out interview with Rolling Stone, Glenn said he's ready to be a gay rock star: "I've gotten tired of kind-of gay or straight people being pop culture's gay [spokespeople] – like Macklemore. It makes me wonder, 'Are we ready for an actual gay pop star and not just the safe straight guy saying it's OK?' I appreciate the fact that Michael Stipe was able to just be who he was, and it rarely overshadowed the music."
Emily Rios
One of the stars of FX drama The Bridge, Emily Rios, came out during a TCA FX interview this summer. As reported by AfterEllen, Rios, whose character, Emily, is also a lesbian on the show, said, "I'm gay, personally, so being Mexican and a lesbian — this is why I love the character because I deal with the same type of things with my own family. Mexican-Americans especially — because this generation, we come into America and your family wants to be proud. You want to come to this country and say, 'This is what I have to show for it. I brought my family and we're living our better life.' For my family, my mom didn't want me to live a difficult life. She brought me here for a better one so she's like 'Your coming out ... I don't want this to be this. I want you to be comfortable.'"
Former Miss Kentucky Djuan Trent
Trent came out as queer in a personal blog post in March inspired, she told Sirius XM Progress, by the need to clear things up with her friends about her political beliefs. "They were not for gay and lesbian marriages," she said, as quoted at the Huffington Post. "And it just kind of fired me up a little bit. So I sat down at my computer and I just started typing away and that is what came." It was also imperative, she said, for her to have come out as a queer women of color. "People need to be able to see more people who look like them," she says.
Geena Rocero
This spring, model Geena Rocero came out as transgender in one of the most epic ways possible: as part of a TED Talk (below). At the same time, Rocero used the platform to announce the creation of a global campaign, Gender Proud, which she hopes will raise awareness and support for trans issues and communities across the globe.
Andreja Pejic
Celebrated model Andreja Pejic came out officially as a trans woman this summer, after undergoing sex reassignment surgery earlier in the year. Knowing that her modeling career was built on being a gender nonconforming model, Pejic weighed her transition for a number of years. "I was proud of my gender nonconforming career, " she told People. "But my biggest dream was to be comfortable in my own body. I have to be true to myself and the career is just going to have to fit around that."
Samira Wiley
Out Magazine's "Ingenue of the Year" wowed many fans the moment she hit screens as part of the sensible cast for OITNB. Her character, Pousséy, is a lesbian on the show. Her struggle with the emotional impact of an unrequited love affair with her best friend Taystee is arguably one of the most compelling plot lines. In real life, Wiley is anything but struggling, due to her widely reported relationship with writer Lauren Morelli. 
Derrick Gordon 
Following in the footsteps of the NBA's Jason Collins, Derrick Gordon became the first active Division I basketball player to come out in an interview with ESPN/Out Sports in April. "I just didn't want to hide anymore, in any way," the UMass redshirt junior told the network. "I didn't want to have to lie or sneak. I've been waiting and watching for the last few months, wondering when a Division I player would come out, and finally I just said, 'Why not me?'"
Michael Sam
Michael Sam made history by becoming the first gay athlete to be drafted into the NFL. Even though he was officially cut from the league by the Dallas Cowboys before the start of the 2014 season, Sam's decision to go public with his sexuality before the draft will make the next gay NFL prospect's life incredibly easier. The moment he was drafted was recorded on video, and the kisses he shared with his boyfriend sparked an important conversation on social media about the way the media far too often sensationalizes coverage of LGBT athletes.
M.K. Nobilette
Although LGBT singers like Adam Lambert and Clay Aiken get a lot of credit for their high-powered American Idol turns, Nobilette is the first Top 10 American Idol finisher to be come out as openly LGBT during the competition. While some suggest her sexuality is the reason she didn't advance further, Nobilette says that revealing her sexuality was imperative to her authenticity. "I feel like if I want America to get to know me and who I am, they should know my sexuality," she told the Hollywood Reporter.
Matt Llano
Professional distance runner Matt Llano came out this fall in a YouTube video, "An Open Look," sponsored by the Northern Arizona Elite running club. After receiving waves of support, Llano told Out Sports that coming out was one of the greatest decisions of his life. "It's not all that common for athletes to have an opportunity to transcend their sport and to touch people's lives for the better," he said. "So knowing that I've been able to do that truly gives meaning and purpose to my running and is something for which I'll be eternally grateful."