Airports Across America Are Hell on Earth Right Now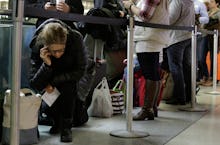 The day before Thanksgiving is one of the busiest travel days of the year. But a massive winter storm on the East Coast has made pre-Thanksgiving travel even more hectic and horrible.
At the time of writing. FlightAware reports 931 flight cancellations in the United States and more than 1,200 delays. Forget Black Friday, this is Black Wednesday — a day where airports all over the world have become hell on earth.
If you're reading this from home, grab some hot cocoa, curl up in a blanket and enjoy photos of the stress you're not going through:
But at least some people are handling it the right way...