Pope Francis Is Fighting to Reform the Catholic Church, One Greedy Priest at a Time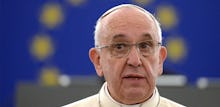 The news: Pope Francis has never been shy about sharing his thoughts on the world's various problems, but now he has his sights set on something a bit more personal: his own church.
During a homily last week, Francis did not hold back in condemning priests and laity who turn churches into businesses, calling it a scandal for churches to charge payment for services.
"The people of God can forgive their priests, when they are weak; when they slip on a sin, the people know how to forgive them," Francis said, according to the Catholic News Agency. "But there are two things that the people of God cannot forgive: a priest attached to money and a priest who mistreats people. This they cannot forgive. It is scandalous."
Real issues: The pontiff explained his point through the story of a young couple looking to get married who were told that a Mass could only be included in their abbreviated 20-minute ceremony if they paid for an extra slot. A "sin of scandal," Francis said of church leaders who turned themselves into businessmen to "rent out the church."
"When those who are in the Temple — be they priests, lay people, secretaries, but who manage the Temple, the ministry of the Temple — become businessmen, people are scandalized. And we are responsible for this. The laity too. Everyone," he said.
The business of the Catholic Church is not limited to weddings. The pontiff alluded to a menu of unreasonable charges for both rich and poor to participate in church rituals: baptisms, blessings and other services.
"I think of how our attitude can scandalize people with unpriestly habits in the Temple: the scandal of doing business, the scandal of worldliness," the pontiff told Mass attendees.
A history of problems: This sin of scandal doesn't comes as a surprise for a powerful, global institution built on centuries of conquest and taxes on both its followers and opposition. In the Roman Empire, Jews could only practice their religion if they paid a tax to the Catholic Church. Later in the 16th century, the church sold "indulgences," which granted full or partial forgiveness of sin. Francis is attempting to change this historical narrative.
The day before the homily, the Francis attended a U.N. conference on nutrition and access to food as a basic human right where he similarly addressed issues of misplaced and hoarded money that does much more harm than good.
Food, he said, shouldn't be subject to market speculation or quests for profit.  
"We ask for dignity, not for charity," he said. Francis knows that money makes the world go around, but he knows there's also a limit. Now it's time for the rest of the church to follow suit.