California's Friendly Neighborhood Citizens Groups Are Really Just Big Oil in Disguise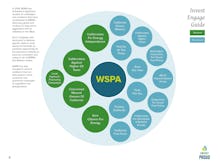 Californians for Energy Independence. California Drivers Alliance. Save Our Jobs. Just a few grassroots groups playing their role in American civil society, right?
Here's the thing: Those and more than a dozen other groups are actually run by one of the largest oil and gas lobbying groups in the U.S., and they're trying to gut California's climate change laws.
That comes from Western States Petroleum Association's presentation, which ended up being leaked to the NPR-affiliated Northwest News Network. The leaked documents show a web of grassroots-sounding organizations created by the oil lobby to fight "aggressive anti-oil initiatives in the west."
The slideshow: The organization's PowerPoint presentation begins by telling members that it's the best of times, and it's the worst of times. (Those are the actual headings on the first few slides.) It's the best of times because U.S. crude oil production is at its highest point since 1997. It's the worst of times because, as the photos in the presentation show, people are protesting the fossil fuel industry all over the country.
The web of "grassroots" organizations is a response to that. As the presentation says, "In 2014 WSPA has activated a significant number of campaigns and coalitions that have contributed to WSPA's advocacy goals and continue to respond to anti-oil initiatives in the West."
While people had previously accused WSPA of astroturfing — the term used when a large group bankrolls what's made to look like a grassroots campaign — it's another thing to see the strategy laid out in the group's own plans.
WSPA President Cathy Reheis-Boyd has pushed back, saying in a statement that the slides were used in a presentation and there's nothing secret about them: "The fact we are engaged in partnerships with a large array of business and consumer coalitions isn't a secret to anyone familiar with our active engagement on behalf of our members in all of the states for which are responsible."
What it means: The big focus for the group is California's AB 32, an environmental bill passed in 2006 that created new greenhouse gas and other emissions standards. A new cap-and-trade program is going into effect next year as part of those regulations.
WSPA and its smaller groups are calling it a "hidden" gas tax and calling on people to complain to their representatives and stop it from being passed. There's a bigger fear here — if cap-and-trade succeeds in California, it could spread to other nearby states that WSPA works in, like Oregon and Washington.
Not many things are hard if you're a giant oil industry group. But connecting with voters does seem to be one of them.