Police Shot and Killed a 12-Year-Old Seconds After Arriving at Scene of Toy Gun Scare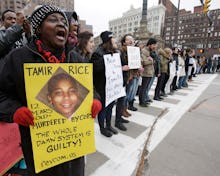 AP
Four days after the fatal shooting of 12-year-old Tamir Rice by a Cleveland police officer, the Cleveland Police Department has released audio recordings of both the initial 911 call and the police dispatches sent to the officer in question.
Warning: The footage is graphic:
Here's what happened: Police were dispatched to Cudell Recreation Center Saturday after a 911 call reported a "guy with a gun pointing it at people." According to the audio recording and Cleveland police, the caller told dispatchers that the supposed gun was "probably fake" twice, but that detail was not conveyed to responding officers. The video shows Tamir approaching the squad car immediately upon its arrival; according to Deputy Chief Ed Tomba, he was given three commands to drop the weapon.
When he ignored those commands, Tomba says, the officers exited the squad car and shot him once in the stomach roughly a second later, from a distance of ten feet. Tamir was given CPR by a responding FBI agent within 5 minutes, but died early Sunday morning.
The shooting has sparked outrage in Cleveland: The shooting — at least the 14th shooting of a teenager or pre-teen by police since the death of Michael Brown, according to the Daily Beast — came to national attention due to its proximity to the grand jury decision that cleared Officer Darren Wilson of any wrongdoing in the Brown's death.
This isn't a first for the Cleveland police department. The force is currently under investigation by the Department of Justice to determine if its policies regarding the use of deadly force violate the civil rights of Cleveland's citizens. In May, six officers were indicted for their roles in a high-speed police chase that left two dead. Despite that record, or perhaps because of it, the Cleveland police department has been surprisingly transparent in the case, even releasing the names of the officers involved. 
"The release of this video is in no means an effort to try and explain the actions of the division of police or of the young man," Tomba said at a news conference. "We are honoring the wishes of the family in releasing this and also in the spirit of being open and fair with our community."
Some are blaming the shooting on toys that mimic the appearance of deadly weapons. Ohio State Rep. Alicia Reece from Cincinnati has introduced legislation requiring "all BB guns, air rifles and airsoft guns sold in Ohio to be brightly colored or have prominent fluorescent strips." 
But when this is the latest questionable use of force by a department already under state and federal investigation for overstepping its bounds, there's little wonder that protesters in Cleveland have taken up the chant of Ferguson: "No justice, no peace."