We May Finally Have a Working Ebola Vaccine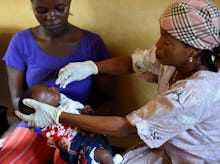 The news: While Americans' Ebola hysteria has mostly calmed down in the past few weeks, the virus is still keeping a very tight stranglehold over West Africa — but there might finally be some good news.
Not only is the pace of the outbreak stabilizing in West Africa, but Wednesday the National Institutes of Health and GlaxoSmithKline PLC announced the results of preliminary testing on a co-developed Ebola vaccine, and it's looking pretty good.
The study, published in the New England Journal of Medicine, found that the vaccine safely triggered anti-Ebola antibodies among all 20 of the participants, with those who received higher doses of the vaccine developing more antibodies. Aside from two people who reported mild and brief fevers, there were no adverse side effects.
"It's a very encouraging first signal," GlaxoSmithKline CEO Andrew Witty told the BBC. "Whether it's a breakthrough depends on making sure that all the rest of data over the next few weeks and months is in line. But this certainly gives us very significant cause for optimism."
Good timing for a turnaround. While the region's Ebola outbreak has seen some stabilization, this is still very much a real problem. On Wednesday, the World Health Organization (WHO) announced that Ebola has claimed 5,689 lives since the outbreak began, with most of the deaths taking place in Guinea, Liberia and Sierra Leone. There have been 15,935 confirmed cases of Ebola in the region, up from 15,351 the week before.
Previously the UN lambasted the international community for not stepping up efforts in the fight against Ebola, especially with regards to developing a successful vaccine. Last month, Canada began a limited trial in conjunction with WHO, and a much larger field trial is set to take place in West Africa with the Canadian vaccine.
What took so long? This highlights a pervasive problem with the American response to the Ebola crisis. With very little dedicated resources or public or private dollars pushing them through, Ebola vaccines and treatments have been stuck in development hell for years. And now, in the throes of an epidemic, researchers and agencies are scrambling to jump-start these projects again.
"What is frustrating is that we have another outbreak where potentially none of these treatment options are being used," National Institute of Allergy and Infectious Diseases virologist Heinz Feldmann told Newsweek. "The thinking has to change now. We can't just wait and wait and wait. Some of these vaccines have been stuck in this position for 10 years."
While there has been limited success with experimental treatments, so far there have only been enough doses to treat the few American patients infected with Ebola. If the international community is to battle the virus on a global scale, it needs to step up Ebola research and treatment development, fast. Luckily, based on these newest findings, that may finally be happening.