The FDA Just Unveiled a Bold Plan to Fight Obesity in America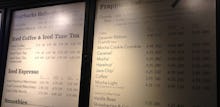 The news: By this time next year, menus and food displays around America will look very different.
The Food and Drug Administration announced Tuesday sweeping regulations that will require food establishments to display the calorie counts of all food and beverage items they sell. The policy applies to any business that sells prepared foods and has 20 or more locations — ranging from fast-food restaurants to coffee shops, pizza delivery stores and even movie theaters and amusement parks.
"Americans eat and drink about one-third of their calories away from home, and people today expect clear information about the products they consume," FDA Commissioner Margaret Hamburg said in a statement.
The policy was first announced under the 2010 Affordable Care Act, but food industry groups had been lobbying hard against it for years. Businesses will have a year to comply with the new regulations. Similar laws already exist in certain cities, but the rules will expand the regulations across the rest of the country.
A major American problem: While obesity is certainly a global epidemic, it's a staggering problem in the U.S. Though Americans only compose 5% of the global population, they make up 13% of the world's obese and overweight population.
According to a Lancet study earlier this year — the most comprehensive study of its kind — there are 160 million overweight adults in the United States, 78 million of whom are obese. Even China, which has four times more people, can't beat that. Nearly 75% of American men and 60% of American women are obese or overweight, as are 30% of American children and teens. In comparison, only 4% of kids in the Netherlands or Sweden are overweight.
And things are only expected to get worse. According forecast by the Centers for Disease Control and Prevention, over a third of American adults can be classified as obese — by 2030, that figure is projected to be 42%. The states with the highest obesity rates were Alabama, Arkansas, Indiana, Kentucky, Louisiana, Michigan, Mississippi, Missouri, Oklahoma, South Carolina, Texas and West Virginia. Obesity rates have been steadily increasing for decades, and they will continue to do so.
"Being overweight or even obese is a growing, unchecked problem in the U.S. today," Ali Mokdad, professor of Global Health at the Institute for Health Metrics and Evaluation and one of the study's researchers, told NBC News. "We are looking at a major public health epidemic that must be stopped."
Why this is important: As Mokdad points out, "We have to remind ourselves that obesity is really not a cosmetic issue. It's a main risk factor for morbidity and mortality." According to the U.N. World Health Organization, chronic weight complications kill 3.4 million adults around the world every year, with many deaths linked to heart disease, stroke, diabetes, arthritis and cancer.
While the health benefits of calorie labeling are still being debated, one thing is clear: Obesity is perhaps the biggest health problem facing Americans today, and drastic changes like this will be needed to make a real difference.