LGBT Immigrants Have Very Little to Be Thankful for This Thanksgiving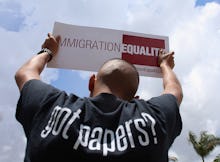 LGBT immigrants will continue to be "homeless" this Thanksgiving.
For a community that is doubly displaced — ostracized by their families because of their sexuality and gender orientation, and without a legal "home" in the United States — President Barack Obama's landmark announcement to reform immigration was anything but comforting. More than 267,000 undocumented LGBT immigrants currently living in the United States are not covered by his executive decision. 
Obama's plan does not cover unmarried LGBT people or LGBT people without children. This means that undocumented LGBT people who live outside traditional family structures — or who do not have a family at all — are at risk of deportation. 
This policy affects young people in particular, many of whom fled their native countries because of their identity. Approximately 80 countries around the world criminalize being LGBT, with some states even mandating the death penalty for homosexuality. These people come to the U.S. to literally save their lives. 
Twice as many undocumented LGBT people are under the age of 30 as straight ones. This includes people like Immigrant Youth Coalition cofounder Jonathan Perez, 27, who traveled from Colombia as a child because he is queer. Perez is not married and doesn't have children or any other traditional familial connection that "validate" his immigration status under the new plan. He told the Huffington Post he contended that Obama's executive decision splits immigrants into "good" and "bad," saying: "The good immigrants get something, and then everyone else is going to be criminalized. That's how we're taking this. It's not even a victory."
While there are some aspects of the immigration plan that aim to help LGBT immigrants, particularly those with spouses or children who are U.S. citizens, the LGBT community remains largely dissatisfied. 
As Francisco Dueñas, director of Diversity, Inclusion and Proyecto Igualdad at Lambda Legal, the nation's oldest and largest legal organization aimed at protecting the LGBT community, wrote in a press statement:
"We are deeply disappointed that [Obama's] plan unfairly excludes many members of the LGBT community ... Thousands of LGBT immigrants, many who have fled countries where LGBT people are unprotected and subjected to horrific abuse and violence, have been waiting for humane immigration reform for years due to Congressional inaction and cannot afford to wait any longer."  
Others — from Aaron Morris, legal director of the LGBT group Immigration Equality, to Pabitra Benjamin, organizing director for the National Queer Asian Pacific Islander Alliance — have echoed this sentiment:  Obama's plan does not protect those LGBT individuals who do not have traditional family structures. 
"Undocumented immigrants who don't have any close U.S. citizen/resident relatives or whose family relationships with U.S. citizens/residents are not recognized," Rea Carey, executive director of the National LGBTQ Task Force, told the Washington Blade. "This includes thousands of LGBTQ families — and people who are being abused or vulnerable to abuse in immigration detention centers." 
Is there hope for change? In a statement to Mic, National Center for Transgender Equality's Policy Director Harper Jean Tobin said yes, with some reservation. Steps can be taken to ensure that the immigration policy changes "will be more than cosmetic." 
Tobin's concern lies with member of the transgender immigrant community who, if detained, are frequently misgendered and placed into the wrong facilities. This is particularly dangerous for trans women, who are placed in men's holding facilities and encounter disturbingly high rates of sexual assault. "The most urgent change the Administration could make is to simply stop detaining LGBT people pending their day in immigrant court," Tobin said. She continued:
"LGBT immigrants, many of them seeking asylum from anti-LGBT violence, have high rates of success in court but also face high rates of sexual assault and prolonged isolation in detention. Transgender women in particular at at extreme risk because ICE houses them in men's jails. Some abandon meritorious cases, risking their lives by self-deporting back to fundamentally unsafe places, just to stop the immediate abuse in detention. These are people who could win relief under the current system if they weren't being detained this way. DHS has recognized that some people are too vulnerable to imprison — that should include LGBT people."
There is no reason why immigration relief cannot and should not be expanded to cover these undocumented LGBT immigrants. Even Obama's concluding remarks of his speech harkens to protecting those who are without a family or a home — but who come to America because they want to build both:
"My fellow Americans, we are and always will be a nation of immigrants. We were strangers once, too. And whether our forebears were strangers who crossed the Atlantic, or the Pacific or the Rio Grande, we are here only because this country welcomed them in, and taught them that to be an American is about something more than what we look like, or what our last names are, or how we worship. What makes us Americans is our shared commitment to an ideal – that all of us are created equal, and all of us have the chance to make of our lives what we will."
Unfortunately, LGBT immigrants don't really have that chance, and that needs to change.