Israeli Arabs Are Sending a Powerful Message to the Whole World About Human Rights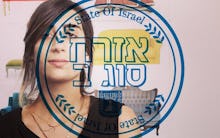 In light of right-wing Israeli politicians trying to officially redefine their country as the "nation state of the Jewish people" and enshrine religious symbols as official emblems of the state, Israeli Arabs are standing up for their human right and taking to social media to send a powerful message: They're people too. 
On Facebook, hundreds of Israeli Arabs are trying to spread awareness by branding their profile pictures with stamps that say "second-class citizens" in Hebrew, a design feature which may hark back to times in the past (Jews in Poland under Nazi Germany rule, for example) when certain peoples were forced to explicitly identify themselves as "others." 
The brainchild of graphic designers Haitham Charles and Sana Jamalieh, those putting the stamps over their avatars are under no illusion that it will affect the passage of the law but are instead protesting their alienation from the state.
The background: The Guardian reports that the law is being pushed by the Israeli right and would essentially elevate the Jewish character of Israel above its democratic one. Prime Minister Benjamin Netanyahu argues that it's necessary to prevent Israel from being ethnically diluted by Palestinian refugees, but maintains that such actions won't affect minority rights.
"Israel guarantees equal rights for individuals regardless of religion, race or gender," Netanyahu told the Knesset. "Israel is the national homeland of the Jewish people and of the Jewish people alone."
But critics of the law say that he's pandering to far-right voters and in the process sending a clear sign that Arabs are not welcome in Israel. "A friend suggested that we design a sticker in response to the terrible situation," Charles told Al-Hayat. "We laughed and said: 'All we need right now is for the new state seal to be stamped on our foreheads.' That's when we decided to invent this stamp."
Tel Aviv student Hanin Majadli told Haaretz that many are worried the policy will effectively bar non-Jews from equal participation in politics or civil society. "The Arab public in Israel has no partner. I think that most of the support we are receiving is from overseas. There is support from the Israeli left, which is also a minority and sometimes is also afraid," she said. "I don't think this Facebook campaign will lead to the cancellation of the nation-state law. But we need to put it on the table, to raise awareness."
Why you should care: As Israel grows much more conservative, the ramifications of the new policy will likely extend beyond domestic politics. It could further destabilize Israeli-Palestinian relations and inflame anti-Israeli views.
At the same time, new laws backed by Netanyahu's coalition propose harsh treatment to suppress Palestinian opposition. The Washington Post reports:
The law would allow Arab Israelis found guilty of throwing Molotov cocktails and even firecrackers to be banished to Gaza; would deny families of assailants the right to bury their dead; and would expose anyone who waved a Palestinian flag at a demonstration to loss of their health and social security benefits.
A tense situation is getting much worse, and it doesn't seem like it's likely to end well for anyone. Israeli Arabs are right to fear second-class treatment by the government, because it's pretty much announced its intention to do so.