One Map Reveals What Americans Are Most Thankful For, State by State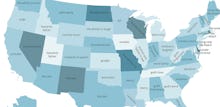 The news: Despite being stereotyped and chided as materialistic and vain, it turns out Americans really are thankful for life's most important things.
Facebook's data-science team analyzed Thanksgiving-related posts — the kind that are the 2014 equivalent of AOL chain emails — that asked the social network's users to "write 3 things you are thankful for over the next 5 days."
After looking at the data from the past few months, they determined Americans are thankful for their friends, family and health, in that order.
When the data scientists divvied up the data by sex, they noted men were thankful for their wives far more than anything else. Meanwhile, women (who, it should be noted, accounted for 90% of the collected data) appreciated their husband, children, dogs, wine and comfortable beds all roughly equally.
Perhaps the most interesting revelation is each state's most distinctive thing it is thankful for. Texans and residents of drier states are thankful for rain, while New Yorkers are grateful to have apartments (as broom-closet-sized as they might be).
Social media and new media were also on the state-specific rise this Thanksgiving, as Californians noted their love of YouTube while those in New Hampshire were thankful for Netflix. In Vermont, Pinterest is what most people were thankful for — proving Americans are a diverse lot, but not necessarily an ungrateful one.