Walmart's Black Friday Is Going Just As Terribly As Expected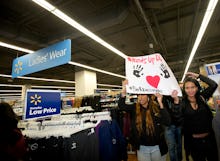 The first day of the holiday shopping season has arrived, and bargain-starved consumers are celebrating in their regular fashion: with fighting, arrests, employee protests and general mayhem.
Cellphone video shot in a Houston-area Walmart shows exactly what we've come to expect when a $750 Samsung television is placed before a mob:
The brawl was only brought to an end when police officers in the store were able to break it up. Police were also called to a California store when two women got into a punching match over a Barbie doll. "The whole thing was pretty stupid," a shopper named Sonia told the local CBS affiliate.
Walmart controversially opened its doors on Thanksgiving, which means that some of the worst offenses actually came before Black Friday itself. Richard Ramos, of New Jersey, was pepper sprayed and arrested for disorderly conduct, aggravated assault on a police officer and resisting arrest after arguing with a Walmart manager over the price of a TV. Unfortunately for Ramos, police were already in the store responding to an incident where a woman spat in the face of another woman's child.
Twitter users have been documenting the insanity since the wee hours of Thanksgiving, expressing a mixture of excitement, fatigue, anger and outright fear.
The big-box behemoth isn't just combating its run-of-the-mill arrests and battery charges this year. St. Louis-area stores were visited by Ferguson protesters condemning a grand jury's failure to indict Officer Darren Wilson in the August shooting death of unarmed teen Michael Brown. Protesters roamed the aisles of at least four area stores, chanting "No justice, no peace" and "shut it down" as police followed them to assure that the protests remained peaceful.
Walmart wasn't just used as a staging ground for protests, either — Our Walmart, an unofficial employee labor group, has organized strikes at stores in at least six states in a bid to push the retailer to raise its obscenely low wages and raise the number of full-time jobs. Non-employee protests of the store's labor policies are the biggest in history: more than 1,600 stores in 49 states.
Walmart and area police have prepared for the protests in the usual fashion: with armored vehicles.
If there's any silver lining in the Black Friday insanity, it's that Americans aren't alone in it. In the U.K., where supermarket chain Tesco reigns supreme, police were called to dozens of locations. One Manchester store was shut down after only 36 minutes due to fighting.
Happy holidays.
Update: Brian Nick, Walmart's director of national media relations, reached out to Mic with a statement: 
"Yesterday alone, Walmart was pleased to serve 22 million customers throughout the country who were able to take advantage of some wonderful deals for their Holiday Season.  We had specific security plans in place that resulted in safe and exciting shopping events for our customers.  We're also very proud of the great work performed by our 1.4 million associates in stores across America."