The First 'Star Wars: The Force Awakens' Trailer Is Here and It's Absolutely Amazing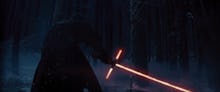 We've waited a grueling 21 years since the last real Star Wars movie (or nine if you actually count the prequel trilogy, but come on), but it's finally here: the first trailer for Star Wars: The Force Awakens.
So without any further ado, here it is:
This ...
looks ...
so ...
amazing ...
Director J.J. Abrams — known for his work with Super 8, Mission: Impossible III and the new Star Trek films — is taking the helm of the space opera from George Lucas for the first time, and in the first series installment since Walt Disney Studios bought the franchise's production company Lucas Films. Using a screenplay Abrams cowrote with Lawrence Kasdan, cowriter of The Empire Strikes Back and Return of the Jedi, the film is slated for a December 2015 release, and frankly, that just can't come soon enough.